The Importance of the Corn Husk Doll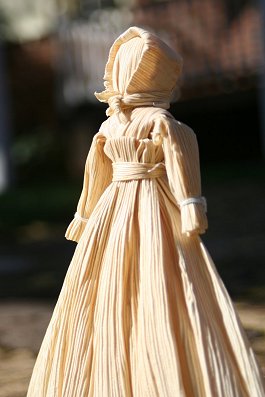 For tens of thousands of years, the Iroquois and Oneida people have made and used corn husk dolls for a variety of purposes, and now the Appleton North Native American Student Organization is selling corn husk dolls to celebrate Lovestruck week with an indigenous American flair.
But first of all, what is a Corn Husk Doll?
A Corn Husk Doll is a small figurine made of Corn Husks, Raffia, and possibly felt, that was used as both a toy for indigenous American children and also as charms that protect the home, livestock, crops, and the overall health of those who keep them. The dolls were made by taking
the husks of corn after harvest, soaking them in water until they are soft, and twisting and kneading them into the shape of a doll, and occasionally they have colored traditional clothes made out of felt, cotton, or leather, and other ornaments made of various materials.
What is the history of Corn Husk Dolls?
Corn, or Maize as it was referred to, was originally domesticated from a kind of grass called Teosinte in Mezoamerica (now modern-day Mexico) several thousand years ago, and eventually, it became a vital plant in indigenous American culture and religion. Corn was an extremely beneficial crop to the indigenous American people, and a vital ingredient for they found a way to use every piece of the ear, from using stalks for walking sticks and kindling, to using cobs for scrubbing brushes and for eating, And the corn husks were used for weaving mats, baskets, and dolls.
What do Corn Husk Dolls symbolize?
Corn Husk Dolls symbolize the spirit of corn, one of the three sisters (those being the spirits of corn, beans, and squash) which are together because indigenous farms would incorporate corn, beans, and squash would feed off of the other and create their small ecosystem and not impair the natural ecosystem they were part of, this is now referred to as Silviculture, and is a method of farming that is intended to work very well without impacting the natural ecosystem of whatever environment the farm is in, and is much more efficient than modern-day farming. Corn Husk Dolls also traditionally do not have faces, this is done on purpose because in legend, The Great Spirit made the spirit of corn one of the sustainers (Three Sisters), and the Spirit of Corn was so thrilled she asked the Great Spirit if there was anything else she could do for her people, and the great spirit told her that dolls could be woven from her husks, so the spirit of corn made a doll out of her husks to entertain children, and she made the face so much like hers that the doll was extremely beautiful, and the doll ended up contemplating its own beauty so much that it barely played with the children, which is why, when more of the dolls were made, they were faceless.
What tribes used or made corn husk dolls first?
The exact origins are up in the air, as indigenous American people did not have a written language for a very long time and most of their history was told orally (through stories), but we do know that the Iroquois and Oneida peoples were some of the first to be documented to associate Corn Husk Dolls with the Spirit of Corn and the Three Sisters In their mythology.
Are there any other things someone should know about corn husk dolls?
Even though Corn Husk Dolls were children's toys, they were still revered and very important to a great many indigenous American cultures because of their connection to the spirit of corn and the three sisters, which makes these toys also important good luck charms that can protect one's self, home, and loved ones.
What are we doing with them?
We are making these traditional corn husk dolls by hand for sale during Lovestruck week, to not only provide charms to give luck and protection throughout Lovestruck week but also to generally spread the work and information about indigenous American traditions and culture. Our stand is open every day of
Lovestruck week (or until we run out) and we will be selling these dolls for 1$ each. We will also be selling rice crispy treats and kool-aid gummy worms.