Horoscopes for the Week of 10/19/15
Horoscopes are back! Check weekly for advice from the sun, moon, and stars, this week brought to you by Isabel Stratton and Elise Painton.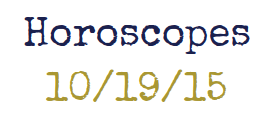 Aries (3/21-4/19)
Right now you need to think about MAKING YOUR DREAMS COME TRUE. Finish that assignment. Talk to that cute person. Get out of that bed. Try harder, Aries. You need to be doing something, and this change of fall weather and a taste of winter might be bringing you down. Don't let the bundles of coats and mittens and scarves keep you from doing what you want or NEED to do.
Taurus (4/20-5/20)
Even though most everything in nature is dying, your love life may not be. It may be too late for your mom's petunias and black-eyed susans, but not for a little smoochy smoochy. Sweetest Day has come and gone, and all of those heart-eyed couples posted ooey gooey pictures of them and their significant others, and that could be you, Taurus! You're stubborn, and you might just be too stubborn to stop thinking about that person who sits in front of you in third hour. The stars believe in you, Taurus.
Gemini (5/21-6/20)
You may find yourself in the presence of a know-it-all sometime this week, Gemini. At first, this person might actually have a lot of valuable information that could be very helpful. After a while, though, you may get quite annoyed with their knowing-of-all-the-facts. Don't let your temper get the best of you. Be patient, you will probably need them sometime in the near future. Stay on their good side for your own good.
Cancer (6/21-7/22)
There's a big project you should get done soon, Cancer. This project may bring you importance, wealth, and fulfillment. I know you can do it, just try not to cry. It'll probably take some effort. There are probably some outstanding, itty bitty, responsibilities that you must complete before starting on this star-studded project. Get to it, let your emotions fuel you through this process.
Leo (7/23-8/22)
Someone close to you may be trying to get you to do something you don't necessarily feel comfortable doing this week, and since it involves an opportunity to gain something, you may be persuaded by this person's advice. You may hear that you're being too cautious, and you don't want to seem lame and timid to this person, so that might push you to make the wrong decision. This time, your intuition may be wrong, Leo. Don't do something your gut warns you to avoid.
Virgo (8/23-9/22)
You may find yourself in a quarrel with someone you usually get along with this week. It could be a family-related matter, or a social engagement. The two of you can't agree on something, and that is quite out of the norm. You might feel like giving them a swift punch to the schnoz, but it's always better to agree to disagree to hold a strong relationship. This person is important to you,  and you always want them to have a top-notch sniffer, right? Right.
Libra (9/23-10/22)
You might be super pumped for an adventure you've been thinking about or planning for quite some time now, Libra. You may be imagining the exciting things you'll do; you might make yourself a diorama of what you imagine it will be like. This might involve more gas or money than you're prepared to give up, or even have. So, the stars' advice for you, Libra, is to think realistically. Try a trip to your neighborhood Kwik Trip, or a nice stroll down the block on all fours. The world is FULL of opportunities, think REALISTICALLY!
Scorpio (10/23-11/21)
The time has come when you may need to confront someone you usually get along with quite well. Cut the texting and resort to face-to-face communication. You have a tendency to say things you don't always necessarily mean when in a disagreement, so choose your words wisely. This time around, "sorry" might not cut it, Scorpio.
Sagittarius (11/22-12/21)
You may be having a simmering conflict with a loved one this week, adventurous one – most likely a family member. You both know something is wrong, but you might be too proud to say something about it. Neither of you want to talk about it, but if you keep it this way it could just blow up in both of your faces. You've gotta push yourself – and maybe the other party – to talk about it and WORK, WORK, WORK THIS OUT. The stars are in your favor, Sagittarius.

Capricorn (12/22-1/19)
You can't hide your excitement for Halloween any longer, and the staff at the Noctiluca don't blame you. It's the spookiest time of the year;  you are more than ready for Halloween parties, haunted houses, scary movies, and all the wonderfully haunting fall activities that come with this holiday. This is your year to shine: put your energy into making the best Halloween costume anyone has seen in years. Or maybe, try your luck at making a beautifully carved pumpkin. You're a hard-working individual, and tasks like these are perfect for channelling all that industrious energy of yours.  
Aquarius (1/20-2/18)
This week you may be feeling a need for adventure, young Aquarius. With the incoming winter weather, plan a ski trip! Take the whole family plus the dog and the cat. Rent a snowmobile and take your labradoodle to another world on the bunny hill. In the meantime, go get a pumpkin from your neighborhood patch and get a latte while you're at it. You deserve it, Aquarius.
Pisces (2/19-3/20)
You're feeling overwhelmed (yet again) and nothing seems to be calming you down. Say it with me: everything's gonna be a-okay. The recent change in the weather has brought your mood down slightly, and school work has got you feeling bluer than blue. The worst thing you can do is ignore this problem: start by being proactive in your school work. Whether it be taking advantage of your study hall (more algebra, less Agar.io), or taking more intense notes in history, even the smallest changes in habits can lead to a more productive —and less overwhelming—  schedule.