Club spotlight: Student Council
One of the biggest clubs at Appleton North, Student Council is responsible for making sure that events like Homecoming and Big Summer Blowout run smoothly. It's a way for students to become actively involved with their school, to ensure that what happens at North reflects the students' wants and needs.
Student Council is run by advisor Teri Berlowski, the Foods teacher at North. There are also four members of the student executive board who help lead the club; a president, vice-president, secretary, and treasurer. This year, those leaders are Vidushri Mehrotra, Claire Riebau, Sarah Li, and Maddie Platten. Each grade also has two co-presidents that act on behalf of those students.
The club participates in events both within Appleton North and in the community. At North, Student Council is most well-known for Homecoming Week. Members in the club vote on spirit days for the week as well as the games that will be played during the Homecoming pep rally. The music that is played in between each class during the course of the week is also Student Council's doing. Students spend months preparing for the week; choosing the DJ, ordering decorations, and hearing from students and staff about how to make Homecoming the best one yet. The preparations for Homecoming begin as early as April of the previous school year.
Besides Homecoming Week, the club manages events such as Coffee House, Lovestruck Week, and Big Summer Blowout (formerly Bandemonium). According to Vidushri Mehrotra, Student Council president, events like those are, "focused on enriching students' experiences at Appleton North by increasing and radiating school spirit." Student Council even partners with other clubs and organizations in order to maximize participation. Some of the charities that Student Council reaches out to include the Salvation Army, American Cancer Society, Humane Society, and Harbor House. In late April, members of the club sign up for Walk MS, an event that brings awareness for people who have been diagnosed with multiple sclerosis. Students in the club also have the ability to volunteer for the Kid's Fun Run at the Timber Rattler stadium. Zoe Tjader, senior class co-president, said, "It is a great opportunity for students to get involved if they need volunteer hours and just have a fun time being involved with something in the school."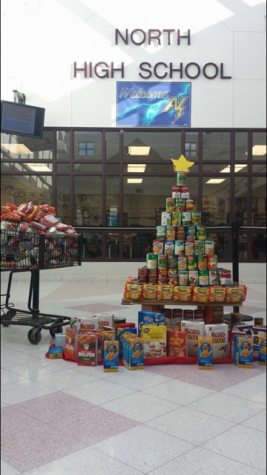 Photo by Weston Floerke 
The exhibit created by Appleton North's Student Council for its annual food drive.
Many students and staff feel that student government is a necessity not just at Appleton North but throughout the country as well. Mrs. Berlowski stated, "Student Council is there to listen to what students want and bring them to the table." The club helps staff and students work to improve the school to make it something that people will be proud of. Vidushri Mehrotra recognizes the necessity of Student Council; she stated, "I believe that having a form of student government in a school setting is very important because it allows students to share their opinions in an environment where their voice will be heard. Student government also helps root responsibility and leadership because members are in charge of what the club engages in and allows students to make their own decisions through consensus and teamwork."
Not only does Student Council benefit the Appleton North student body, but it also leaves an impact upon its members as well. Tjader, who has been a member of Student Council for six years, said, "Being involved in a form of student government, I have made so many great friendships and had the opportunities to do things that build a strong sense of leadership in me. I like listening to what people have to say and figure out solutions to improve the school to make things better overall." Vidushri's favorite part of Student Council is the comradery that it provides for students. "It is a club that is so different from other clubs. Students from all unique backgrounds and talents can come together in order to make an event happen." Mrs. Berlowski appreciates seeing how the community reacts to what Student Council does, because as she said, "A small gesture goes a long way!"