Erb Park pool, not splash pad
In the heart of a hill, surrounded by a park, lies Erb Pool. Unfortunately this community staple is currently being threatened by replacement by a splash pad. A splash pad is a flat area with nozzles and water features that spray onto a non slip flooring with little or no standing water. Now you may be wondering how this glorified sprinkler could ever replace an outdoor olympic size pool; if you are able to answer this question let me know. I grew up at Erb Pool, well actually in a house just across the road, and therefore bear a great deal of sentimentality toward the place. From making my first best friend in the kiddie pool amidst a game of marco-polo to first gathering the courage to brave the high dive, to making my way through six years of swimming lessons, the waves of Erb Pool are laden with nostalgia. I can hardly recall my childhood without the faint smell of chlorine in my damp hair, or the sound of laughter, and music floating from the pool to my backyard.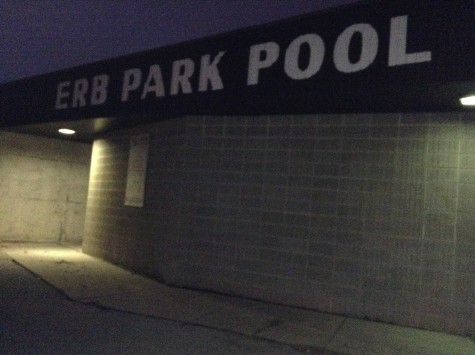 It seems that I am not alone in my fondness for this neighborhood stomping ground, at the most recent Common Council Meeting over 100 community members young and old gave a voice to this endangered pool, arguing relentlessly on its behalf. One of these pro-swimming pool activists happened to be my ten year old little sister. Elise, a shy little thing by nature, felt passionately enough about the loss of her aquatic sanctuary to write and deliver a speech on the pool's behalf.

A splash pad is fine for very young children, but the teenagers that once frequented Erb, will be left without a beloved hangout. Not to mention the thousands of hopeful children who will be losing their swimming lessons, and I'm curious to see how they'll manage to host the Bird Bath Open in a splash pad. Not only will the removal of the pool spoil the summer fun of many children, but also the hours of sledding enjoyed on the surrounding hills during the dreary winter season. With the removal of the hills for a splash pad so too will go the exercise and entertainment provided to families, children, and teenagers alike by the repeated climbing and descent of those snowy slopes.                                           
Even in its state of slight disrepair, Erb Pool is a community hotspot that we cannot afford to lose, especially in an age where children are being lured indoors more and more by the temptation of stagnant play on computers or video games. Erb pool continues to be one of the few remaining places that can coax children out of their tech-comas. When looking back on the years of healthy fun I enjoyed among the waves of the pool, it is tragic to imagine taking that same opportunity away from the current, and future children in the neighborhood. These children deserve a place to find their fins, uncover their mermaid tails, play the shark and sometimes the minnow, and even host underwater tea parties as I and many others once did. You see, the pool is more than just cement, chlorine, and water, it is a place of discovery, learning, play, imagination and excitement, and if that isn't worth saving, I don't know what is.