The Draw: A new and inspiring business for Appleton's creatives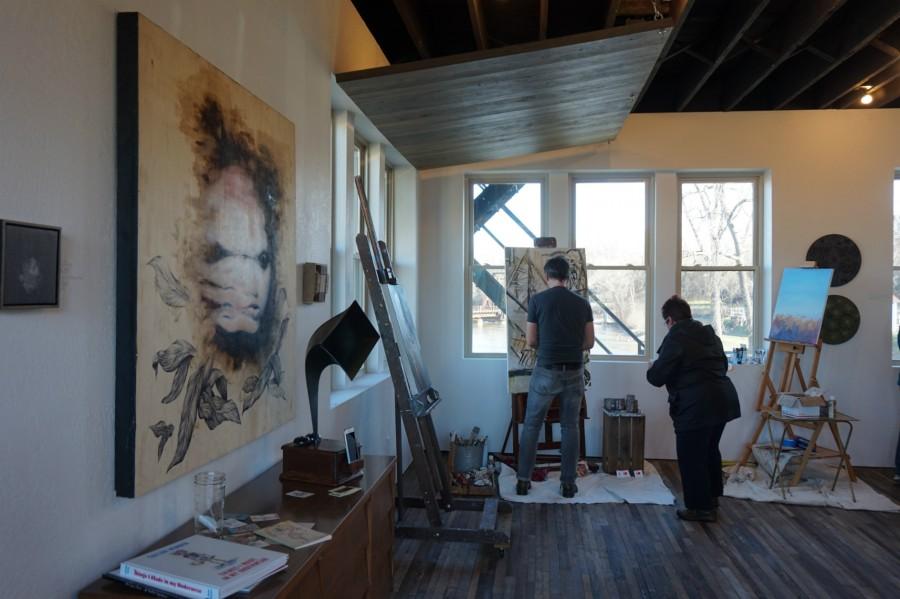 There's a new business in Appleton created with artists in mind. The Draw, located in a 3 level historic building right on the Fox River, is a space for artists, creatives, creators and everyone in between. The 76-year-old building is now host to everything from a gallery, to graphic designers, to a tattoo artist. This diverse space is the brainchild of Appleton North graduate John Adams.
Approaching the small riverside building just off the downtown area, you are greeted with a giant, detailed mural of an eagle holding a pencil in it's beak.  Without even entering the building, it is obvious that this is a space for creatives. The described building is home of The Draw, a new business that just held it's grand opening event on November 28 of this year. The Draw is home to both the Feather and Bone gallery as well as workspaces for local artists and creators. The Feather and Bone gallery features and sells works of all mediums from current artists at local, regional and even international levels. "I wanted to really bring that art to a higher place," comments Adams.
The Draw also has an unique adaptable aspect. As of now, It's a bit of a blank canvas. "It's kind of a space for the community to talk and see what they want out of it. I'm not really defining to too much, I'm kind of leaving it open for the community to throw around ideas for what they want to see," says Adams, "I'm really excited to engage and see what we can do." Some possibilities projects include workshops, fashion shows, music nights, and plans for a pop up restaurant are already in the works.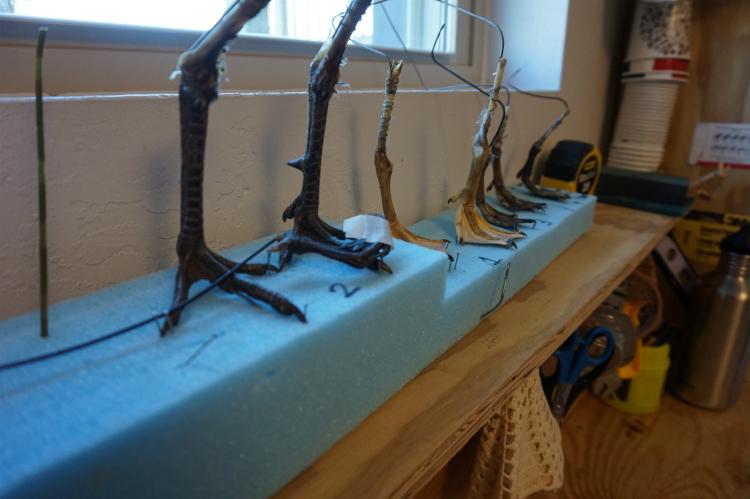 While the gallery takes up most of the main level, the lower level and second floor consist of 15 individual workspaces for local creators. The diverse list of tenants provide  something of interest for everyone. The current tenants include: painters, a tattoo artist, a web developer, graphic designers, someone in marketing/advertising, a video and sound engineer, a handmade stationery business, a health and wellness business, a print shop, the Feather and Bone gallery, a sculptor, a makeup artist, a stained glass artist, a installation visual projection artist, as well as music teachers.
Not only is The Draw a space for these professional artists, but the general public can use the space to create as well. You can come and set up in the general first floor space or even just come to hang out and take advantage to look through the collection of art books at the space.
All of this is thanks to John Adams, an artist himself, he attended film school in Florida and began working in the video and commercial industry. After residing in Chicago for several years, Adams returned to his hometown here in Appleton. "I just kind of felt myself coming back all the time," he says, "Whenever I had time off I was coming back here. I thought: OK, why don't I just switch this, why don't I live in Appleton and go back to work. So I kind of did that."
He was inspired to create something like The Draw after being involved in 2nd Fridays, a popular pop up gallery in Chicago's art district. "I was in a building that had really great traffic. There was work spaces and living spaces and I kind of lived there part time. I loved the excitement of being able to have photographers next door, and you know sculptors and painters and all these people working in one space. So it kind of stemmed from that," says Adams.
Adams idea was further supported after being involved in the massively successful pop up gallery "Fearsome Creatures of the Lumber Woods" during the 2nd year of the Mile of Music in downtown Appleton. "It was a huge success, people loved it and we opened up a gallery in a big abandon warehouse that wasn't being used for anything. People were like, "why can't this exist year around," and I really felt that people were desperately seeking something different, something unique and newly set up. And i wanted to start doing it," states Adams.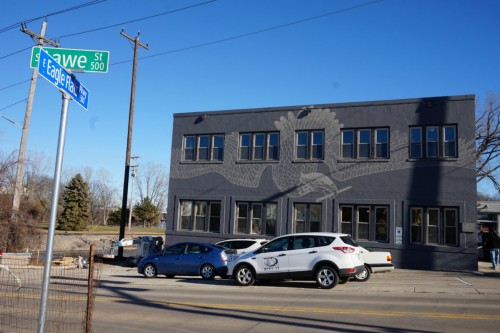 The building The Draw is located in was built in 1939 and used as an office space for the Riverside Paper Company, who owned it until the early 2000's. When the original factory was sold, the offices came with it. The factory was demolished but, due to the proximity to the water, the land the offices are on could not be rebuilt on. As a result, the building was never torn down and it was put up for sale. After 8 months and an estimated $400,000 of renovations, The Draw is as we see it today. The building was gutted and nearly completely recreated with artists in mind. "I wanted to go with something that felt fairly traditional but also a little bit more modern contemporary," says Adams, addressing the style of the interior of the building. The Eagle on the front of the building was chosen due to the buildings close proximity to several eagles nests, and is named Aquila, after the first boat to travel through the Portage canal and onto the Fox River. The mural was painted by a close friend of Adams'. The Draw's logo was designed by a current tenant of The Draw, who also happens to be a close friend.
For more information about The Draw, upcoming events and contact info, visit http://www.thedrawappleton.com/
Located at 800 S Lawe St.
The gallery is open on Fridays, Saturdays, Sundays and Mondays.
Admission is free.