Girls' Swimming: Hard work pays off
You might know about the girls' swim team's recent competitions. The girls took 1st place at Conference, beating the undefeated Neenah Rockets. At Sectionals, the girls took 2nd place. Finally, the girls took 7th place overall at State. The 400 freestyle relay, swam by Abbey Greeneway, Lexi Monty, Britt Horn, and Lauren Hilt, took 5th place at state. Now you know their wins, but are you aware who these ladies are or the effort they put into preparing for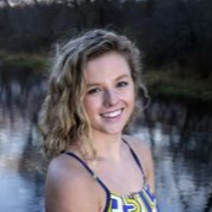 competition?
You might have heard her name on the announcements, seen it in the paper, or looked at the record board in the pool area. Who exactly is this junior named Britt Horn? Horn started with basic swim lessons and her parents had a hard time getting her out of the water. They soon felt obligated to sign her up for swim team. Her swim team is the Fox Valley Wave, and her head coach is Curt Beutler. Horn talked about her swim schedule, "I swim 3 times in the morning a week which is followed by afternoon practice everyday for 2 hours, including Saturday." In her individual events at State, Horn took 3rd in the 100 meter freestyle and 4th in the 100 meter backstroke.
What about the only freshman on the state team, Lexi Hilt, who is a newcomer in the Appleton area? Hilt talked about how she began to swim, "My sister, Lauren, joined a year before me, and it looked fun, so I decided to join." Hilt now swims with the Fox Valley Wave with other high school swimmers such as Abbey Greeneway, Britt Horn, and Brianna Arnold. She practices two hours a day, Monday through Saturday. With three more years in high school, Hilt plans on continuing her career in swimming.

One of the mottos that the girls had for this season was "Win". Whether it be through sportsmanship, getting best times, or winning a dual meet, the girls always have this single word in mind. They plan on continuing that motto into next year by achieving more "wins" throughout the season.