Back to School Lunch Ideas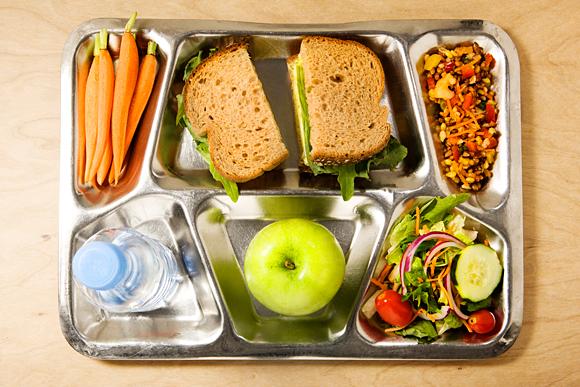 Welcome back! School is back despite all the moaning and groaning, so making the most of the day is key. The thing that could ruin the whole day is not having a lunch or having one that is plain or just unappetizing, so the day can be made better by bringing some healthy, filling lunches. Here are six lunch ideas, each with two sides and four beverages, to make every school day as bright and sunny as it can be! These ideas are very easy to make, and many of them can be made the night before to just grab in the morning while getting those cherished extra couple minutes of sleep.
Let's start out with the lunch ideas.
The first lunch idea is a simple, healthy turkey wrap. To start out, spread some mayonnaise or hummus onto a tortilla. Lay on a couple slices of turkey and sprinkle on some lettuce or spinach. Top it off with some tomato slices and some avocado chunks, roll it up and put it in a container to eat. A tip is to wrap the tortilla in foil so none of it budges and then tear off or roll down pieces of the foil as you eat it to prevent the elements of the turkey wrap from falling. For a side,  cut up some strawberries and place them with some blueberries in a container along with some vanilla Greek yogurt for a fresh snack. Another side is a homemade trail mix with mixed nuts along with raisins and some Craisins.
Second, next lunch is a chicken salad roll. For this recipe, cut up some chicken, celery and green onions. Mix them Greek yogurt, some lemon juice, and some salt and pepper. Roll the mixture up on a tortilla with some spinach and avocados and take it in your lunch box. Add a side of apples and peanut or nut butter. A tip is to squeeze lemon juice on the apples to prevent them from getting brown. Bring along some dried mango pieces or any other dried fruit for another snack.
Next is a healthier version of a peanut butter and jelly sandwich. The first thing to do is to mash up some bananas and mix it in with some peanut butter. Smooth the banana-peanut butter mixture onto one side of the toast. On the other toast, smooth on some low sugar organic jam for a healthier alternative to jelly. Cut up some strawberries to put in a container or put them into skewers for a healthy side. Pack along some chocolate dip or make your own by mixing some Greek yogurt, maple syrup, cocoa powder and some vanilla extract for a healthier version. Another side is some sweet potato chips or again, make your own by cutting up some sweet potato slices and drizzling them with some salt to put in the oven until they become crisp.
Next is have a turkey salad. For this, prepare some grated Parmesan cheese and cut up some lettuce, turkey, tomatoes and celery. Mix together along with  some ranch dressing or Italian dressing and some croutons. Bring a side of crackers and hummus or some mixed fruits and a yogurt dip for a nice, yet filling salad.
The next lunch is an easy chicken quesadilla. Just place a tortilla in a nonstick pan along with some chicken and mozzarella or a cheese of choice. Fold it in half and cook it for a couple minutes. The best thing about this recipe is that you it can me made by taking some leftover chicken from dinner and just cutting it up for the quesadilla. Cut up some celery and pack some ranch dip or peanut butter dip for an easy side. For another side, cut up green apples with some peanut butter.
The last lunch is a fun one: bagel pizza! This will be the easiest and cutest pizza ever made! Just smooth some marinara sauce on a bagel along with some mozzarella sauce. Top your pizza with any toppings you would like such as mushrooms, bell pepper slices, or some sausage pieces and put them in the oven for three to five minutes and you've got a five minute pizza! Add a side of mixed fruits and a dipping of yogurt or some pretzels.
Sometimes there is no time or money to drive to Starbucks or any other place in the morning for a drink, but there are multiple remedies to this! Here are four drinks that are as delicious as they are picturesque!
The first drink is iced coffee. The night before, prepare some coffee along with your sugar or sweetener and put it in the fridge. Honey can be used instead of sugar for a healthier and deeper flavor. The next morning, add ice and milk or cream, and your drink will look like it came from Starbucks. Drizzle some caramel sauce or leave it as is and walk out the door!
Next is have some strawberry water that will look Instagram-worthy. The night before just put some water along with some strawberries and a couple lemon slices to put in the fridge overnight. The next morning put some ice in the cup and you have a nice and fresh start to your day.
Third is a green tea lemonade. The first step is to make some green tea. While the water is boiling, put some ice in a cup. When the tea is done, pour equal parts lemonade and green tea into the ice. Add some sugar or sweetener to taste, and that makes a healthy and delicious beverage to sip throughout the day.
The final beverage is another take on the green tea lemonade. Instead of green tea, berry or hibiscus tea is used for this berry refresher-type drink. Again, pour some ice in a cup. This time pour equal parts hibiscus or berry tea and lemonade into the ice. Add some blueberries, raspberries, black berries or all three into the drink for a nice look.
Remember to subtract, or substitute different ingredients to taste for a delicious lunch. Hopefully these recipes make the school day and school year just a little bit better and help to welcome all back into the school year!