Noctiluca Editorial: extracurriculars aid development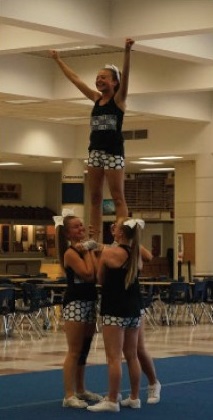 When the school year rolls around, most parents and peer mentors encourage involvement in a variety of different extracurricular activities. Many believe that if you do not participate in extracurriculars, you may miss out on an activity that you find enjoyable. No one wants to intentionally bypass a potentially career-stimulating or hobby-inducing extracurricular. But is involvement detrimental to scholarly work, or does an active student body reap benefits from time-consuming extracurriculars?
Many people will agree that participation in school-related activities offers extensive benefits. Not only can an individual explore new avenues of interest in an act of self-discovery, she can also gain a significant sense of community inside and outside of the school environment, obtain greater time management skills, develop an understanding of true commitment, and form connections with others to construct well-developed social circles.
There are few other periods in an individual's life where interest and career exploration can occur to the extent that is offered within high school. Therefore, all students should take advantage of the opportunities North provides to be involved in extracurriculars. Doing so allows for the consideration of alternative ideas and the investigation into different fields of work. DECA and HOSA are fabulous outlets to discover if a business or health career, or both if one is so inclined, would be the most fulfilling and enjoyable.
Other organizations, such as Fashion Club or HOPE Club, provide similar opportunities for occupational exploration by fostering passions for topics not typically discussed on an in-depth level in academics.
Often times, students develop a sense of community when they get involved in specific organizations. NHS and Peer/KEY Club are prime examples of contributing to the local community by volunteering at nursing homes or bell ringing for the Salvation Army.
Simultaneously, these clubs also provide students with the opportunity to give back to the school as well. Peer tutoring and informative activities regarding substance abuse allow for these individuals to gain greater awareness about prevalent issues among peers and to offer solutions to difficulties in return. Universally, individuals enjoy partaking in school-facilitated activities because they can meet a multitude of new faces who have similar interests as themselves.
Developing a more diverse social circle provides students with the opportunity to explore alternative ideas proposed by those whom they have never previously encountered. Being presented with a new perspective to a topic of unanimous interest can expand a student's comprehension of political, economic, academic, or societal tensions. Bringing awareness also fosters empathy for issues that are often misunderstood.
One cannot forget the academic tremendous benefits that are associated with involvement. Educational and academic-focused clubs expand a student's insight in specific subject matter, improving their comprehension of topics discussed in scholarly classes. Game-oriented activities improve upon students' creativity and logic in problem solving. And of course, physical activity through sports improves upon mental health as well as physical health.
Because extracurriculars do require students to sacrifice homeroom periods and after-school hours, students must develop effective methods of time management to accomplish the requests of clubs and the homework loads of classes. Investing time into activities outside of academics also encourages students to remain committed to work they agree to complete. Of course, individuals must also remember that trying to partake in every club is unnecessary and can be unhealthy mentally and academically. The ultimate goal of experimentation is to enjoy oneself.
Ultimately, involvement in extracurriculars is imperative to the well being of all students by assisting in interest exploration and mental development, but everyone should be conscientious of their time commitments and potential health repercussions of over-involvement. Without these opportunities, though, many individuals would not be able to effectively expand their comprehension of alternative ideas and potential occupations.