Player reflects on tennis' positive, beneficial culture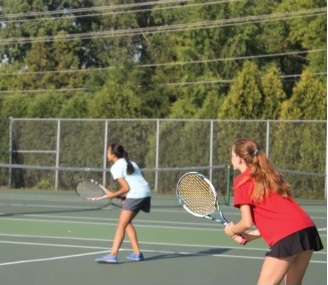 Growing up, tennis was my go-to sport. It was my main summertime activity, whether I participated in city tennis camps, or even just had friendly matches with my father.
However, as I started my freshman year of high school, tennis wasn't an activity that I wanted to join. There were so many other extracurriculars on my list, like debate, orchestra, and soccer, that I simply didn't know how I would have time to fit tennis in to that busy schedule.
It would take two years for me to realize how much I missed tennis, and that I would do the best I could to fit it back into my schedule. So the summer after sophomore year, I restarted my adventures in tennis by taking lessons at the Fox Cities Racquet Club,with Coach Dan Oliver.
As a year passed by, I discovered that tennis really doesn't take up a whole lot of my time. Sure there are morning practices in the summer, afternoon matches during the school year, lessons, and camps.
However, at the end of the day, I've had so many tennis-related memories that I have absolutely no regrets about committing to the sport of tennis.
During the summer, I try to practice tennis regularly, whether it may be by taking weekly lessons with Coach Oliver, or participating in camps that allow me to meet other tennis players around the area. Furthermore, I try playing with my friends, many of whom are talented tennis players themselves. Even though keeping up with their hitting is tough at times, it's such a pleasure being able to enjoy the summer weather with my good friends while also learning fancy ways to beat potential opponents come tennis season.
Meanwhile, participating on the Appleton North girls tennis team has helped me create numerous friendships with various peers these past two years, which actually is my favorite part of being on the team. From surviving aggressive feeds during tennis warm-ups, to surviving building runs with energetic people, there never is a boring tennis practice.
At times, the sweltering heat may make many girls (including myself) want to give up from exhaustion; however, when watching all the supportive girls on the team and receiving encouragement from coaches like Coach Joseph Soddy and Coach Scott Burt, everyone tries to find the joy of tennis and plows through the remainder of practice by taking sips of water and occasionally exchanging chuckles whenever someone happens to suffer a misstep. Challenge matches between team members often prove to be such a challenge since no one wants to kick off a fellow team member from their prized ranking, but at the end, there are usually no hard feelings.
Although tennis practice is such a vibrant place to be, one of my favorite days during tennis season are match days. Match day, for me, is my time to represent the team to the best of my abilities. Words cannot describe how I feel as I watch my opponents run from side to side, and eventually collapse, as I hit the balls cross court, in hopes of winning my matches as easily as possible. Moreover, the more matches I play, the more tips I can learn from watching my opponent, whether it is as simple as a certain way they stand, or intricate as tactic they use to beat me.
Although I really enjoy winning, I have learned how to deal with my losses in a manner that hopefully doesn't affect my future matches. Of course, being with the lovely girls on the team make matches so much less stressful, since they are always so cheerful and loud, no matter if you are winning gracefully, or losing miserably.
Lastly, it's such a treat when my tennis player friends, Brennan Arnold and Sidney Hestres, can make it to one of my matches.
Overall, picking up the sport of tennis, and being on the tennis team has been a decision that I do not regret at all. Tennis is a great way to make new friends, while also enjoying the warm weather and staying in terrific shape. It is an activity I would recommend to anyone hoping to pick up a sport while being surrounded in a very comforting and non intimidating environment.