Recognizing the success of North's cross country team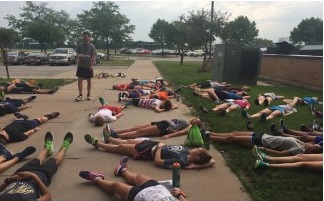 Cross country needs more recognition.
Cross country is a unique sport. It doesn't involve sparkling leotards like gymnastics, or tiny speedos like swimming, and because of that, cross country is often overlooked. People pass it over as simply a sport of running, but there is so much more to cross country than that.
Cross country pushes both your mental and physical limits. As senior Brennan Arnold said, "[Cross country] is hard because running is hard. Seriously speaking, it's kinda like a mental battle and you have to convince yourself to actually do it, so you can feel good about it afterward".
To become a good runner, you need to mentally prepare yourself. The coaches put a big emphasis on expanding your mental boundaries, so you can continue running, even when everything in your mind is telling you to stop. Sophomore Iris Hertting explained that the coaches try to help you see how changing your mindset can allow you to reap incredible results.
Cross country is unique in that you're running for long periods of time, and instead of running on a track, you're running across fields, or up the hills. Some of North's cross country practices happen in Plamann Park, where the runners can go through nature. Meets can often be difficult, especially if the grass is wet. Coaches try to prepare the athletes on how to be the best runner they can possibly be, even if the conditions are not ideal.
Cross country is special because it involves a group of people and a set of coaches even though it really is an individual sport. You are running for yourself, so you can try to improve your personal record, and get yourself one of the eight spots on the varsity team. A comforting thing to remember is that the entire time you are running in a group with other people who are all trying to achieve the same goal as you. Hertting said, "At a certain point, the team really will seem like a second family."
A standard practice starts with everyone warming up with basic exercises, and then eventually running in gradual increments. When running, you separate into different groups, so you can run with people at your own level. But even though you are only running with some of the team's population, everyone is very supportive. Brennan Arnold said, "Everyone on the team will be helpful and support you, no matter if you're in the first place or last place."
There is typically a meet once a week that lasts for about three hours. Junior Sidney Hestres said, "There are a few spectators at some of the meets, but I'd like if some people other than my parents and grandmother came to my meets. It would be nice to see some of the student body at a cross country meet one of these days."
Despite cross country not being an Olympic sport, it should not be forgotten. It's a great sport that involves exercising your muscles and exercising your brain while also making new friends. Be sure to come to support the cross country team at one of their meets this fall!