Larger population brings new accommodations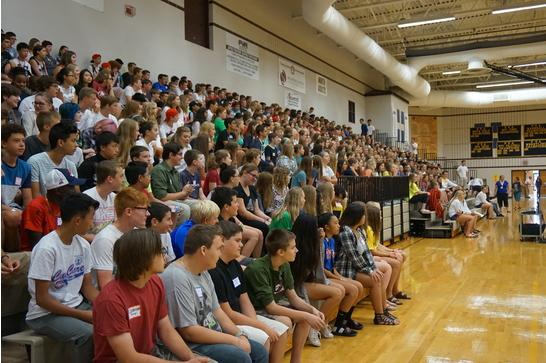 North's student body has grown each year since the school's opening in 1995, and with more kids this year than ever before, students and staff will become more and more familiar with the impacts of these larger student populations. More kids can lead to various changes around the school that will be visible this year.
One obvious impact of having more students is larger class sizes. Appleton North's ideal student-to-faculty ratio is 29.5:1, but in some situations, this can be raised to accommodate more students. Having more students in a class can be helpful in allowing more students to attend North, but can lead to less individual attention per student.
"Obviously class sizes will affect teacher-student engagement," said Mr. Pynenberg, associate principal of Appleton North. "Smaller classes would offer more individual time, but restricting class sizes can make some classes unavailable to some students, so we seek to find a balance."
Another option to make North available to more students without increasing class sizes drastically is to hire more teachers. Since schools get money from the district based on the number of students attending, more students can create more available finances for the school. This can make hiring new teachers possible.
"For the last few years, our staff has increased quite a bit," said Mr. Pynenberg. "We added a new special ed teacher this year. For art, we also hired a new teacher because the numbers [of students] were so high."
More teachers in the same building can mean that some teachers won't get to have their own rooms. Some teachers have begun to have to share their classrooms, meaning that when they are not teaching in them, another teacher will be. This means teachers may need to find another place to work during their off hours, such as in teacher planning.
While more students can limit some classes, it can make other classes possible. Recently, classes that haven't run in previous years have started to become available due to more students signing up to take them. Classes such as AP Calculus BC and Journalism are able to be taught in the school this year, whereas in previous years, they had to be taken through other platforms, such as distance learning, eschool, or not at all.
"[The larger population] definitely helps to be able to offer more programs and classes," said Mr. Pynenberg in regards to these new classes. "With more kids, maybe more students will want to take certain classes."
Besides affecting classes, having more students will also affect extracurriculars such as clubs and sports. Sports are affected differently depending on whether or not they are cut or no cut. No cut sports, such as football, cross country, and swimming, can benefit from having more student-athletes involved.
"The booster club, for instance, gives financing to teams per athlete, so obviously the more we have, the more money we'll get," said Mr. Pynenberg. Cut sports, such as volleyball and performance team, are different in that they aren't affected by this since the number of athletes is limited.
"For cut sports, it doesn't necessarily change things, but maybe the competition gets better," said Mr. Pynenberg. "You would hope that the more students you have, the more talent you'll have. It doesn't always equate to that, but in many cases this is true."
Besides this, having more student-athletes has helped to maintain co-curricular programs. North has never had to cut any teams, and recently, they've had to make some changes to accommodate more athletes.
"We've had to add coaches because of some of the sizes," said Pynenberg. Additionally, if enough freshmen join a sport, a separate team can be made just for the freshmen to allow more athletes to play each year.