Summer Shakespeare brings dreams to life with 2016 production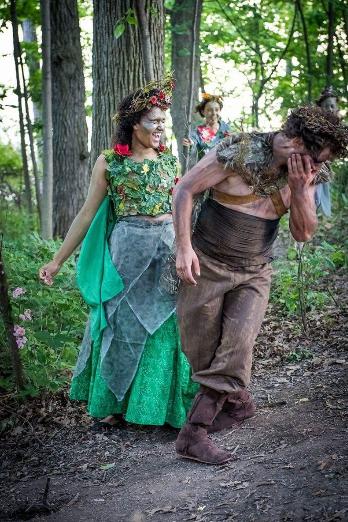 Anyone who knows the ANHS theatre director Ron Parker knows that he is renowned for taking incredible risks. This year, with the Summer Shakespeare program he started thirty years ago with a few wooden boards, some enthusiastic students and a 400-year-old playwright, he took one of the biggest risks of his career. Gathering just over thirty students, two assistant directors, a returning technician, and a Chicago designer, Mr. Parker brought the show to the most natural and authentic set possible for William Shakespeare's, "A Midsummer Night's Dream": the woods. Meeting every challenge with new ideas and strong determination to make this work, the students rehearsed outside everyday for about a month.
Telling the story of two lovers, a dispute between a fairy king and queen, a duke to be married to a woman not ready to forgive, and a few mechanicals aspiring to perform a great play, the set surrounded the actors and audience with the sounds of the woods at night. Setting the story in modern times, the characters were very easily relatable and funny and were able to bring the audience into a magical world on many new levels. For the last thirty years, Summer Shakespeare has been changing the lives of Mr. Parker's students, as many of them have gone on to further their lives actors and actresses of Shakespeare's great works.
Many of Mr. Parker's students agree that Summer Shakespeare is different from other shows they have done with him, whether it be because there isn't the stress of school, or because students come from many schools to learn and perform.
Lexi Asare, a rising North junior who brought Queen Titania and Hippolyta to life, noted, "Shakespeare is different from any other shows because even though it's a four hundred year old language, when presented right, the audience can still understand [the play], it's unique because they have to do a bit of work too. Whether it's listening a little harder or making connections with today's language, it gets them involved in the show."
According to theatre students, there are reasons that William Shakespeare is the most well known playwright in the world.
"Shakespeare shows us that humankind is still relatable even after four hundred years," says Tulip Kopecky, who played the lover Hermia in the show. "People laughed in Shakespeare's day, people cried in Shakespeare's day…people fought with their fathers and wished they could move up in the world. His work gives comfort to the reader knowing that they are not alone in their struggles and triumphs."
There are also reasons students come back thirty years after they have performed one of his plays to see a program that still makes a difference in the lives of the young adults involved.
Assistant director Zak Metalsky concludes, "You always learn something new doing Shakespeare, whether it's about the Bard history, mythology, performance, theatre or yourself…The program helped cultivate me as an actor, so coming back as a director opened my eyes to how much effort goes into a production and how amazing North's theatre program is. My first Summer Shakespeare was also "A Midsummer Night's Dream," six years ago as an incoming freshman, so I couldn't pass up the chance to come back and see the show reinvented in an outdoor space, and relive the experiences I had at North."