Update: New passwords distributed in time for Chromebooks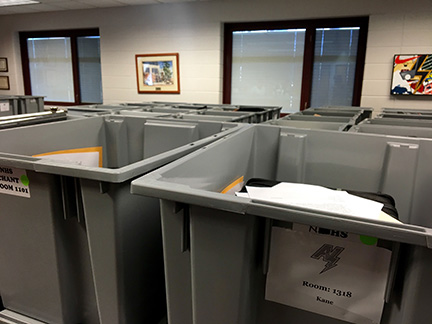 An issue with the new computer passwords for students didn't stop seniors from checking out their Chromebooks today.
Teachers during IE time handed out sticker labels containing new student passwords to all non-seniors, while seniors received their new passwords with their Chromebooks.
The passwords that were to be handed out in homeroom Sept. 1 were deemed inappropriate by school officials, Assistant Principal Mr. Dave Pynenberg said. The


passwords, which were provided to the school district by an outside company, were generated at random by a computer, and contained words that could be considered derogatory or insulting, such as "loser," "reject" or "liar."
These words that students would need to type into their Chromebooks every day were not representative of the message the district wanted to send to kids, Pynenberg said, so the district decided to delay password distribution by a day to fix the issue.
Juniors will receive Chromebooks on Tuesday, Sophomores on Wednesday, and Freshmen on Thursday.
Devon Lehman and Jack Heimerl contributed to this story.