Humans of Appleton North: Tiffany Palys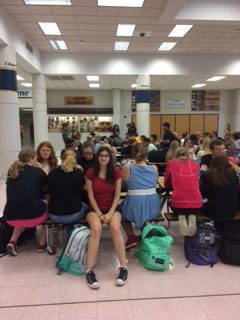 Tiffany Palys has always been the "new girl" at school. The first time she moved was when she was six years old and has moved to a new town 9 different times since then; half in Wisconsin, half in Illinois. She has attended four elementary schools, two junior highs, and three high schools. As a senior this year at North she will start the year at a new high school for the last time. 
"A lot of people told me that that this (North) was a good school, and so far no one has been wrong." When I asked Tiffany what she does in her free time she said on Saturday she and her mom went exploring in Appleton.
"We saw a lot of Japanese, Chinese, and Asian places," she explained. "Me and my mom like those types of food. Where we lived before, in Wisconsin, was kind of in the middle of nowhere, so it surprised us when we saw a lot of shopping places."
Tiffany says she has to stay home alone a lot in the summer but isn't lonely because of her dogs. She has a pekingese, a chihuahua, a corgi, a pug, and one that's a half pekingese-half golden retriever.  
Tiffany has traveled to a lot of different states and moved many times, but her favorite vacation was when she went to  Cedar Point Amusement Park in Ohio.
"There was a really long line for a new roller coaster and it was really hot. Everyone else was complaining but I wasn't."