Humans of Appleton North: Maddy Kapheim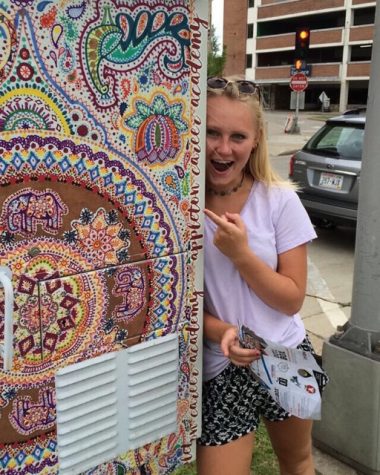 Ever since Maddy Kapheim could remember, she has been an artist. Though neither of her parents are artists for a career, both enjoy it as a hobby, and it has rubbed off on Kapheim. Now a senior here at North, Kapheim has taken a plethora of classes in the artistic field. In fact, art class opportunities are one of the reasons she came to North from East. She has taken many art classes, both inside and outside of school. Kapheim also hopes to go to an art school after graduation.
Art has always been a constant for Kapheim. It was her go-to thing, and continues to be in her everyday life. It is the norm for her to pick up a sketchpad if she is bored, rather than pick up a controller. Recently, Kapheim's art has been seen in many places. A ceramic pot decorated with an octopus currently stands in the board room for the school district. Downtown, you can find a mandala of hers on a traffic box.
Kapheim is even pushing to start selling her pieces. After her grandmother began urging her to start selling, she has started reaching out and has begun thinking about how to get her art to potential buyers. Since she has found her comfortable mediums, Kapheim feels she can learn to sharpen her skills and create beautiful pieces people will buy and enjoy. One idea of hers to get her pieces out to the public was an Etsy account. She also sells her mandala notecards out of the florist shop where she works.
She explained her process of making a ceramic vase. First, she starts with a sketch of what she has envisioned in her head (with the occasional consultation of Mr. Braun, a ceramics teacher at North), then she constructs the pot. "There are two forms of pot design; on potter's wheel, and free hand. I tend to lean towards free hand pots when I do ceramics." Her third step is firing the piece to bisque wear, where she is able to move to her fourth step, glazing. She then fires the pot for the second and final time with the glaze on, which then comes out a shining new piece that is ready for whatever Kapheim has in store for it.