Catching up with Eddie Slowikowski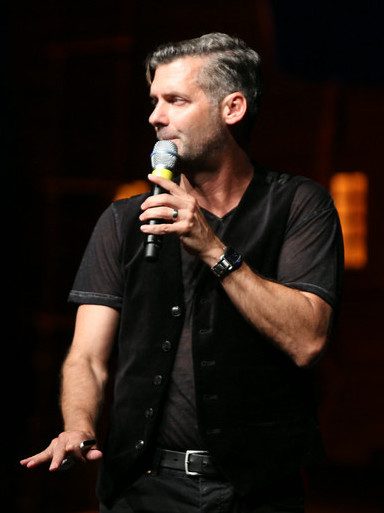 Eddie Slowikowski came to Appleton North on Sept. 21 to give the Class of 2017 some advice about their senior year. The Noctiluca recently asked him a bunch of questions about his passion on inspirational speaking. Here are the questions and his answers.
What did you participate in before you got into the occupation of giving inspirational speeches?
Eddie went to college on a cross country scholarship, so he was very deeply involved with sports and the whole athletic atmosphere.  He was also into journalism, so when he got out of college, he was hired by CNN Chicago as a communications manager.  It was a hard job, mainly because he had to deal with tragedy on a regular basis.  He stayed in the job for about three or four months, and then one day, he decided to give an inspirational speech and he found out he really enjoyed that job.
Was there a person who inspired you to do these talks?
Eddie said his mother was a huge inspiration to him as child.  She was an inspirational speaker, he said, and out of the four children she had, she believed that "I would eventually be the one doing inspirational speaking," since he had the personality to do that, he said.
When he was young, he used to watch Leo Buscaglia (a famous speaker on television), give talks on topics that he loved.  "I used to watch his shows with my mother, and he really taught a lot of valuable life lessons."
When did you start your inspirational speaking career?
Around November in 1992, Eddie's mother had asked him to take her spot in a leadership conference that she was supposed to give a speech at.  The speech he gave that day was about making right choices and decisions.  "The leadership conference was about helping create visions, and that day I felt like I made a difference for many people."
What are you currently doing, in your career currently?
Currently he is focusing on performances for all different types of people.  In August, he was focusing on educators, and empowering them for the upcoming the school year.  Right now he is focusing on inspiring students in the high school and college level.  "I am very keen on empowering people with my performances."
What is your favorite thing about giving these talks?
Eddie really enjoys giving these talks because he realizes that there is a purpose to what he's doing.  "I'm utilizing my gift of helping people find their inner potential.  Best of all, I get to use my own creativity while helping people, so ultimately I'm having fun with my job while helping others."  Inspirational speaking never feels like a daily, tedious job to him.  Overall his job gives him such joy and inspiration.
What was the best moment that happened when giving an inspirational talk?
He has had a lot of great moments in his career.  One that particularly sticks out was when he gave a speech about the shootings that happened in Sandy Hook.  He wrote a piece about this boy named Dylan, who was an autistic boy. Whenever Dylan was really happy, he would flap his hands really wildly.  His mother asked him why he would do that, and he answered that he was a "beautiful butterfly". He was so full of joy and life.  Eddie mentioned that he could definitely tell that the audience was very moved by Dylan's story.  "While I was speaking, I could feel that Dylan's spirit was there with all of us.  It was truly a special moment for me."