Humans of Appleton North: Addisyn Kohlbeck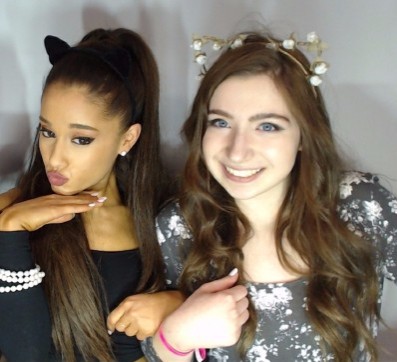 Addisyn Kohlbeck, a 17-year-old senior here at Appleton North, met Ariana Grande on Feb. 28 of last year. However, it was no ordinary meet and greet purchase. Addisyn won a nationwide competition to meet the pop star. "I got a notification on Twitter about a video contest on this app (Fahlo). My best friend at the time and I watched some of the videos already submitted and saw how most of them were the crazy fangirl type videos, and we knew we had to do something different if we wanted any chance at winning. We worked on a script and came up with the idea to do a newscast-type video using all of her song titles." The uniqueness of the video is what won them their dream.
Addisyn was at school in the Appleton North commons when the winners were announced. Only eight people won nationwide, Addisyn being one of them. The meet was then scheduled for Ariana's upcoming concert at the BMO Harris Center. When I asked Addisyn how she felt when she first caught sight of Grande, Addisyn told me "I just wanted to be myself and not act crazy, and that's what I did. I didn't want to regret anything." Addisyn and her friend met Ariana and took an epic photo.
"I've always loved celebrities and the idea of celebrities. The goal is to turn my hobby of makeup into a career doing red carpet makeup. That's the dream," Addisyn confessed to me. I continued to question her about her dream of being a red carpet makeup artist, finding her to light up more and more with every word.
"A lot of the looks I get inspired from are by Ariana Grande's Makeup artist, Daniel. He does this semi dramatic winged eyeliner on her, and I love it. It's a fun yet bold look, and I love how that's her everyday style. It's simple and easy to do while also being elegant."
"I always saw my mom putting on makeup for work and a lot of it had to do with early, early, YouTube days. I just became obsessed with it. I always loved doing makeup and trying out new products. Makeup and everything about it is fascinating to me."