Success in Caramel Apple Sales for Fashion Club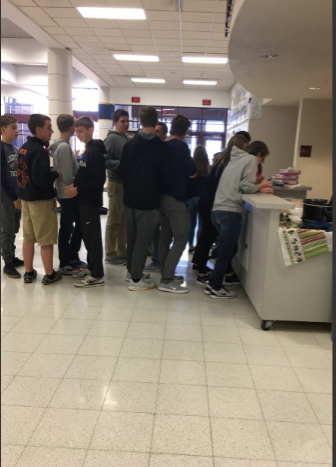 Lines flooded in wait of the taste of dripping caramel cascading over fresh cut apples being served at the booth in the commons.
But why the random caramel apple sale you may ask? Well, the booth was run by North's very own Fashion Club and was selling apples last Wednesday through Friday at the booth in the commons during all lunch hours. It has become an annual event for fashion club, serving as a fundraiser to raise enough money to run a fashion show that happens with participating club members in the spring time in the commons at Appleton North. In the fashion show, they have a runway right in the middle of the commons and during all lunch hours the club puts on a show, having members of the fashion club be models walking down the runway striking a pose in some of the best clothing stores in Appleton and the most on-trend styles in fashion. But that's not all, they also make sure to blast the latest top hits in music by having their very own DJ.
Being a president of the club (Maddi Klepps being the other president), I find the success of the sales overwhelmingly spectacular. Everyone loved the idea of having the perfect fall treat of caramel apples, and I found the same customers coming back for more!
"Working at the booth was always fun and sometimes got hectic. It was nice to be able make someones day and also help fund the fashion show with such a small gesture." Skyler Singer, a member of the club shares her experience working at the booth.
If you are interested in joining Fashion Club and want to be apart of the trend, Fashion Club meets every month, so make sure to sign up with Mrs. Camber during IE time!