Students begin scheduling courses for 2017-18 school year
New class offerings reflect student interest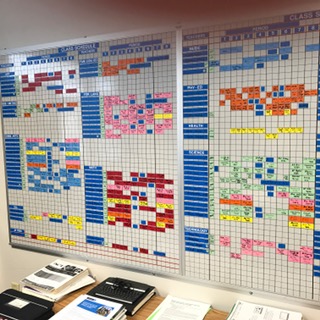 Appleton North students began Monday logging onto Infinite Campus to select courses for the 2017-18 school year.
A district webcast helped demonstrate to all homerooms how to make class selections. Students will have one full week to enter their courses into Infinite Campus. The window to enter courses will stay open from Monday, Jan. 16-Tuesday, Jan. 24.
The screencast shown Monday in homeroom can be viewed anytime here: https://drive.google.com/file/d/0B43QZBKqRKsXeWF2dDNUejBNaVU/view?ts=586d648e
Don't wait until the last minute though, said Associate Principal Mr. Dave Pynenberg. Requesting your courses quickly makes your chances of getting the classes you want a lot greater, he said. "We prioritize who gets their stuff in on time. The early bird gets the worm."
All students will receive a copy of their courses on Monday, Jan. 30 and must return it with a parent signature by Monday, Feb. 16.
"We want the parents to be involved in the process," Pynenberg said. "It really is our way of knowing that the parents have seen your classes. It gives us time for that communication."
Pynenberg advises that when picking classes, students should try something different, not just what friends or siblings say you should take. Pynenberg advises students to take classes that fit for them.
"If you have an idea of your career path take as many classes as you can to help prepare yourself for the next level," Pynenberg said. "If we don't offer it, there's a lot of times we can try to find it in a different way."
There are a lot of opportunities to take new and interesting classes at North next year, such as a variety of new social studies electives. Some of the new class offerings are Criminal Justice, World Religions and Philosophies, History's Mysteries and Modern Pop Culture.
"We did a lot of research as to what offerings some of the other schools in the state had that were popular among kids," said Mr. Joel Hermansen, social studies teacher at Appleton North. "We wanted classes that kids would be interested in."
Hermansen said that these electives are meant to teach students "argumentation, sourcing, close reading, and other skills, while using an inquiry model to teach these skills."
North students are showing a lot of interest in these classes, Hermansen said. 
"We've been really happy with the level of engagement about these courses." The chosen courses seem to be "courses that people were interested in."
Students have a lot of input when it comes to deciding class offerings.
"Student requests drive which classes run," said Guidance Counselor Mrs. Lori Krueger. "That is why it is very important that all students enter their request in the IC system."
The four new history courses were in fact chosen by students. There was a survey given out to North students asking about their interest in eight new history electives. The four most popular were picked to be choices for North students in their schedules.
One thing not to do when scheduling?
"Don't pick a class because you think a teacher might be teaching it," Pynenberg said.
Krueger agrees. "After administration determines which classes will run for 2017-18, they will start the process of determining how many class sections are needed, assigning teachers, classrooms and creating student rosters," she said. So there are no guarantees when it comes to teacher selection.
"It is anticipated that students will receive preliminary schedules by semester two finals," Krueger said. These schedules give you an idea of what classes you will have but it is not always correct at that time.
That early schedule "is not really permanent," Pynenberg said. "We could have a staff member leave, or enrollment could go up in the summer."
The exciting choices of new electives, in addition to the already broad range of available classes, give students many opportunities to find the right class.
"Take a class that you might not [usually] take," advised Pynenberg. "It might open some doors for you."