Stone Cellar Brewpub featured on Travel Channel's 'Food Paradise'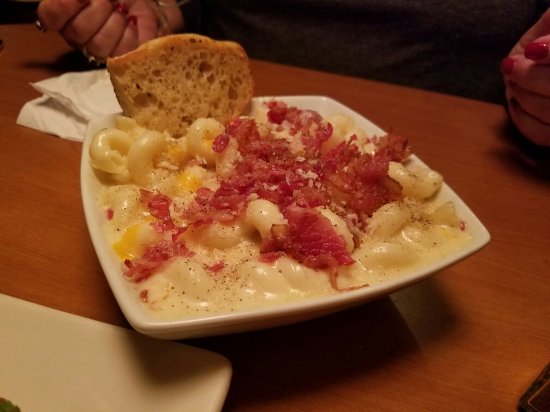 Popular local restaurant Stone Cellar Brewpub drew some high profile attention recently as it had several dishes featured on the Travel Channel's "Food Paradise." The dish drawing the most attention is the cheesy Beer Mac n' Cheese.
Chef Hector Hernandez had this to say about the dish: "it's definitely one of the cheesiest and most unique mac n' cheese dishes in the dairy state."
The show aired about a month ago, highlighting the process through which the Beer Mac is prepared. First, olive oil is applied to a sautée pan and slices of Andouille sausage are added to render down in the oil. Second, Stone Cellar's house-made Alfredo sauce is added so that it can heat up sufficiently and so the flavors of the sausage can properly mingle with the flavors of the rich, cheesy sauce. Third, Cavatappi noodles are mixed in to create a base for the dish. Towards the end of cooking, a mix of four Wisconsin-made cheeses — Muenster, Smoked Gouda, Pepper Jack, and Colby Jack — are melted in to give the mac its famous flavor. The fully cooked pasta is then transferred from the sautée pan into a bowl and is then topped with a mixture of shredded Mild Cheddar and Monterey Jack, Panko breading, and chopped bacon bits.
Another dish featured on the program was the Wisconsin White Cheddar cheese curd appetizer which is raved about across social media and the local food scene. In addition, the show also included Cellar's cheese sampler platter which includes four cheeses of varying kinds ranging from Red Dragon Cheddar to Merlot Bellavitano.
Garrett Richey, North student and employee at Stone Cellar, holds much praise for the cheese curds, saying that "they're much better than any other cheese curds you could find…the cheese is such good quality, they just melt in your mouth."
Stone Cellar is that it is the oldest operating brewpub in the state, housing the production of local craft beers since 1858. In that time the establishment has risen to becoming the 6th highest rated restaurant on Tripadvisor out of all of the eating establishments in the Fox Valley (282 total restaurants).
Alex Hohman, when not writing for the Noctiluca, works at Stone Cellar Brewpub.