Growing interest in Psychology Club leads to podcasts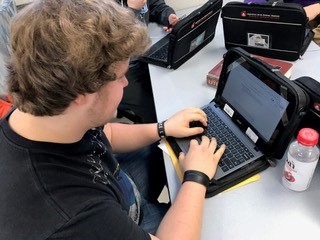 Talk of the growing popularity of a particular club has been circulating around the school lately — psychology club, also known as "psych club." In the words of Emma Hammond, a senior with an interest in neuroscience and member of the executive board, "Psych club is essentially a large group of people who are interested in learning more about ourselves, other people, just psychology in general, and it is led by Mr. Eastman who is super great and he tries to focus on subjects that a large amount of people are interested in… it's pretty fun."
The club used to be a simple gathering of people listening to Mr. Eastman speak on specific topics, but a newly formed student cabinet of officials has been instated, the organization and formality of the club growing as more and more people join. "The students have more interactions with each other and with Mr. Eastman because now we have officers," Hammond said. An interesting new aspect of the club is the podcast that just got started up by a few innovative students: Andrew Ida, a senior, with an interest in mathematics, proposed the idea of a podcast to Mr. Eastman in light of many students talking about having to miss Psych Club meetings due to other obligations. With the podcast, the discussions of psychology club can be shared with anyone — students current, past, and future, parents, teachers — via social media (a department led by Raven Wilson and Katrina Pfaffenbach). Ida and Hammond are the club's audio engineers and podcast coordinators. The first podcasted meeting was recorded Jan. 6 in the auditorium. Much of the student body is part of this growing club, and competition for official positions on the executive board was abundant.
Many members of psych club also take AP Psychology or Psychology, but there are plenty of members who do not take those classes and who understand the concepts discussed in Psych Club just fine, according to Mr. Eastman. "Even though it's related to AP Psych class, much of the things we discuss we never have the opportunity to discuss in class."
Mr. Eastman founded Psychology Club because he noticed many students not using I/E time wisely when it was first instated. He saw a lack of social interaction, and, being big into human behavior as an AP Psychology and Biology teacher, he thought it would be important to "give students an opportunity to interact with one another and learn about the interactions of the universe."
When asked about the future of Psych Club, he responded: "It's open-ended. We'll see where it goes. We are a society that oftentimes has a short attention span, and maybe people will get sick of it; I certainly hope they don't… I hope it will give community members an opportunity to know some of the things that students and teachers are doing in the school."
A few topics that may be discussed in the future include: The psychology of love, the taboo of sex, gender and sexuality, and power and control, according to Hammond and Ida.
Hammond, Ida, and Eastman all put the growing popularity of psych club to different things, but one answer they had in common: curiosity. "I think it just comes down to a tremendous drive to our curious nature. I want people to be curious… I think students are craving an opportunity to learn things strictly for the sake of learning them, with no strings attached. It's nothing that's mandatory. They can just sign up and show up whenever they want and you know you're going to get something out of it that you'll be able to use. I also think that it's important for students to be exposed to the passions of their teachers," Mr. Eastman said. "Psychology Club is about three things: One, it is about learning more about human behavior, number two, it's about becoming a better critical thinker, and number three, it's about being more aware of our global community."