State champion girls basketball team wins MaxPreps award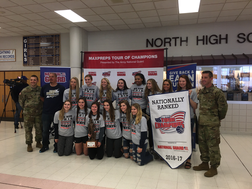 The North girls basketball team was awarded Tuesday, April 18 with the MaxPreps Tour Of Champions, presented by the Army National Guard.
This award is only given to the top ten girls basketball teams in the nation, with over 16,000 teams qualified for this award.
The Appleton North girls basketball team had an undefeated season leading them to win the state championship, which qualified the team for the award.
"I'm extremely proud to be a part of this great team, it's a huge honor to be awarded with this national title," Senior Kate Lukashewich said.