North Principal Mr. Huggins named new assistant superintendent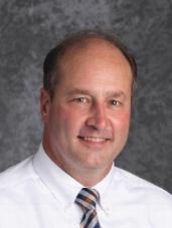 North High School Principal Mr. James Huggins announced Wednesday in a letter to staff and families that he accepted the position of assistant superintendent for school services/student services of the West Cluster Schools for the Appleton Area School District.
Huggins will be filling the position previously held by Dr. Judy Baseman, who has been named the new superintendent following the announced retirement of Mr. Lee Allinger. Huggins will begin in his new role July 1.
Huggins shared the news with North staff Wednesday at a scheduled after school staff meeting before the letter was mailed to families.
Huggins, who has been an educator for 22 years, spent 17 of those years at North, nine as principal. Before becoming principal at North, he served as principal for five years at Einstein Middle School. Prior to that, he was an assistant principal for student services and curriculum and instruction, dean of students, and special education teacher at North.
"Without a doubt, this comes with many mixed emotions and though I'm excited about the new challenges ahead, I'm saddened to leave such an outstanding staff and school community," Huggins wrote in his letter. "Of my 22 years in AASD, this has been my home for 17 of them.   North is truly a special place for all and I will certainly cherish all of the many positive memories and shared experiences."
According to the AASD website staff bio, "Huggins is originally from Texas and after serving as an officer in the U.S.M.C., he began his teaching career at the middle school level in the Texas hill country prior to moving to Appleton. He was excited to be a part of the original faculty which staffed the 'new' high school, Appleton North, in the Fall of 1995. He loves watching the growth and learning that occurs with students as they transition from incoming freshmen to graduation and beyond. He enjoys spending time with his family and loves to be outdoors whenever possible. He currently resides in the Fox Valley with his wife Kay and their three children, Tyler, a North graduate, Austin, a junior at North, and Lauren, an eighth-grader at Einstein. His wife is a second-grade teacher at Ferber Elementary in Appleton."
Huggins shared in a letter to parents of how proud he was to serve as principal at North. "The members of the Lighting Community, our students and parents, staff members, former staff members, and our alumni form a special team whose collective efforts have provided a tremendous educational environment for our children to grow and learn, preparing them for the exciting journeys ahead," he wrote in his letter.
Huggins said he will be working with Mr. Ben Vogel, the North Cluster Assistant Superintendent, "to ensure a smooth transition for the next principal of Appleton North High School."
Vogel, also in a letter to families, said "Mr. Huggins' strong leadership has made a significant positive difference in the quality of learning experiences available to our students at North High School.  Mr. Huggins has worked with the North community to develop consistent expectations for high-quality instruction, a collaborative team approach to continuous school improvement, and trusting relationships with families and community members.  Knowing the level of commitment and expertise shown by our outstanding staff members at North High School, I am confident that North's tradition of excellence will continue."
One of the school district's priorities is "providing stable leadership at the building level," Vogel said. "I am working with the District Leadership Team to develop a timeline and process to identify a highly qualified replacement for Mr. Huggins in a timely manner."