Lady Lightning become state champions: Season in review
A couple of months ago, I wrote an article talking about the expectations for the Girls' Basketball team. Players and coaches alike set high expectations, which included winning the always prestigious, Golden Ball, otherwise known as the Girls' Basketball State Championship.
For the first time in Appleton North's history, and also in the history of the city of Appleton, a girls' basketball team brought home top prize in the state.
However, not only did the Lady Lightning win the State Championship, they did it in an undefeated, convincing fashion.
It was an exciting thrill ride to watch these ladies accomplish their goals, see them compete, and see them beat some of the best teams in the state.
"No one expected us to go undefeated. We just focused on the game in front of us, and playing to our potential for the upcoming 36 minutes," said junior Kari Brekke
"I knew we had a great team, but I didn't expect us to win every game. Each practice we were focused on what we could control," said senior Callie Pohlman.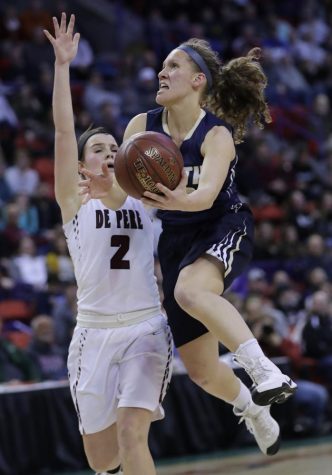 "I knew there was a chance, but we would have to stay healthy and handle the teams with poise and respect. Our schedule is a beast and no one plays a tougher one in the FVA than us," said Head Coach Joe Russom.
Besides the state championship victory, players had very different takes on their favorite moments of the year.
Brekke's favorite moment was the victory against cross-town rival Appleton West in the sectional semi-final game. "I don't think I have played in a louder atmosphere than that game. Beating Appleton West in that atmosphere was something that I will never forget," Brekke said.
Sophomore Paige Schabo's favorite moment of the year was when the team went to Indiana and played against two great girls' basketball teams and won the tournament. She later added that her 23 points and 11 rebounds against Appleton North's arch-rival Hortonville were her favorite individual performance this season.
Even though the girls had a perfect season, there were still many obstacles they had to face in order to raise the Golden Ball at the end of the year. Some of these obstacles could have cost the girls a perfect season and a state championship, but their poise, hard work, and dedication helped the girls fight through and get to the promised land.
"A huge obstacle we faced was missing lay-ups. Our whole team got into a funk, but we worked before it cost us in the long run. We spent hours in practice fixing our mistakes. If it wasn't for that, we may have never accomplished as much as we did," said Schabo.
Coach Russom had multiple takes on obstacles the team faced. "Ego was one. Ego is the enemy. We are deep and talented. There are only so many minutes in the game and to keep everyone happy and on the same goal is a daunting task. The kids and parents did a great job of putting the team first. The second obstacle was handling energy vampires. Jealousy, naysayers, etc. were all distractions that could have sucked our energy and focus away from the task at hand. The kids, however, handled it all with class and poise by using as a motivational force instead [of] allowing the crabs to pull them down to their level," said Russom.
It was a huge season for our Girls' Basketball team, arguably the best sports moment of the sports season. This was a great moment for the Appleton North community because no one can take away the fact that the 2016-17 Appleton North Girls basketball team are the state champions.