Music review: What to expect from Lana Del Rey's Honeymoon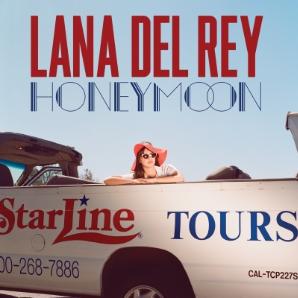 Lana Del Rey fans around the world are rejoicing in the much-anticipated third album Honeymoon, released Sept. 18. Honeymoon has 14 songs, including "High By the Beach", and "God Knows I Tried."
Del Rey, also known by her legal name as Elizabeth Woolridge Grant, is an indie-pop artist who describes her music as "Hawaiian glam metal." Apart from her involvement with Honeymoon she has also sung in movie soundtracks like The Great Gatsby and Maleficent.
When asked about her favorite song in Honeymoon, sophomore Anna Lammers said she liked "High By the Beach" the best. "I think it's a very beachy and chill song from the sounds of it, but when you actually listen to the lyrics, I think of a super cute breakup song," said Lammers.
Two of the more popular songs, "Honeymoon" and "High By the Beach," are both about love, according to the artist. "Honeymoon" is about Lana telling her husband that even though they both have flaws, they will always love each other while "High By the Beach" is about Lana breaking off a relationship because "you take the wheel" and "loving you is hard, being here is harder." The lyrics in "High By the Beach," however, give a different meaning than the music video. In the music video, it appears that Lana is trying to get out of the public eye by retreating to a beach house, but is still getting stalked by the paparazzi in a helicopter. At the end, Lana uses a gun to shoot at the helicopter, causing it to explode. The music video also fits the chorus by making it seem that Lana wants to relax, but the paparazzi refuses to leave her alone.  
Honeymoon can be ordered for $12.99 on iTunes and on the artist's official website, where it is available in different formats, like CD boxed sets and exclusive, limited edition vinyl.