200 Walk Out to Stand Up
North students join national school walkout to honor Parkland deaths and call for stronger gun legislation
Photos by Olivia Molter
About 200 Appleton North students participated in a national school walkout at 10 a.m. Wednesday, March 14, to stand in solidarity with thousands of students around the country protesting gun violence and pushing for stronger gun legislation in the wake of the deadly Parkland shooting that led to the deaths of 17 students and staff.
Students gathered for about 17 minutes on the patio outside the commons, one minute to honor each of the deaths from the shooting at Marjory Stoneman Douglas High School one month ago.
"I want to honor the victims of the school shootings all across America and especially Florida. This is my way of expressing my opinions and standings," said sophomore Hanna Hiltunen.
"I don't think gun violence is a good thing, and there need to be changes made," said sophomore Katie Anselment. "There have been multiple occasions of school shootings, and nothing has been done about it."
Student speakers shared a megaphone to read the names of those who died, share statistics about school violence and make statements. Organizers also handed out information about how to contact local legislators to tell them about the walkout and its reason. They encouraged students to continue to demand increased legislation and let their voices be heard.
"Our goal was to perpetuate the discussion of gun violence in our schools and how we can change the growing epidemic… [T]he state and federal representative contact information cards being handed out, the reading of the Parkland shooting victims followed by a moment of silence, the reading of statistics, and the group share made for a heartfelt walkout," said junior Henry Ptacek, one of the organizers of the event.
"I hope that this sparks conversation and thoughts about what has been happening in schools throughout the country and what we can do to prevent it, even if the majority of students can't vote yet… I decided to get involved because I wanted to stand up for an issue (school safety) that I care about deeply, and I wanted students to feel comfortable standing up for themselves and their right to go to a safe school," said senior Jackie Ganser, another of the organizers.
School administrators, including staff and the principal, as well as several police officers were present to ensure the safety of the students. The event was organized by Jackie Ganser, Henry Ptacek, Will Scheffler, and Cece McDermott. They worked with administration to organize the walkout and ensure a safe, smooth event.
"…I believe the walk-out was well organized, gave students a voice, and was powerful," said North Principal Mr. Pynenberg.
"I hope that the amount of kids attending the walkouts and rallies will catch the attention of political leaders and lead them to consider reforming gun laws," said sophomore Sara Krajnik.
"As the majority of us out there are unable to vote due to our ages, we used the next best tool available to us: power in numbers. After all, times have changed, and guns have changed along with it, so I believe that laws need to be fixed to accommodate the present rather than wallowing in the past. Enough is enough," Krajnik said.
Adithi Reddy contributed to this report.
Leave a Comment
About the Contributor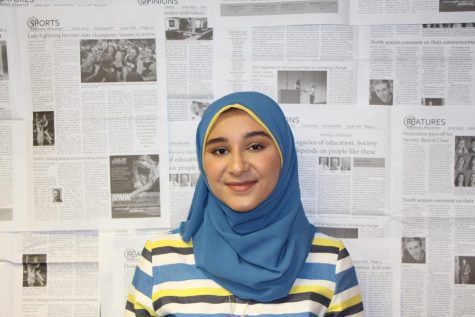 Salma Abdel-Azim, Senior Editor in Chief
Hello! My name is Salma Abdel-Azim, and I am a senior here at Appleton North High School. I am the Senior Editor-in-Chief of the Noctiluca, a club I've...