Mac DeMarco – This Old Dog – Album Review
Mac DeMarco, the prince o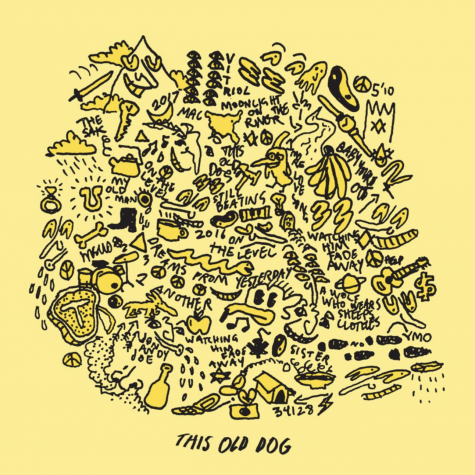 f indie rock, made a name for himself in the early 2010s releasing some of the most memorable and enjoyable pop-rock of the decade. While his first two albums, 2, and Salad Days, have their own standout moments, and a pleasant overall sound, they are hard to tell apart in terms of sound, style, and quality. These albums are not bad by any means; they are in fact some of my favorites, but especially after another helping of this exact style on his lovesick 2015 EP, Another One, I had hoped for some sort of musical evolution from Mac, big or small. His 2017 release, This Old Dog was just what I had hoped for.
Past releases from DeMarco have been inconsistent as far as songwriting, and mostly dealing with heartbreak or observations on life in general. It seemed as though when he wanted to, he could write a great song, but occasionally just didn't get around to it, relying on vibe more than anything else. While that element certainly isn't gone on This Old Dog, Mac seems to have matured in a number of ways lyrically. Most notably, diving into his relationship with his father who he has a troubled past with. Mac doesn't shy away from his traditional song topics, but again, they are noticeably better written and executed. Still Beating, One More Love Song, and For The First Time are all some of his best work. "A lot of the songs I wrote not thinking I was going to put them on an album, so I didn't put up any block or barrier," he told Billboard. With all that said, some songs on this record, however enjoyable, are still underwritten, and could've been explored further (A Wolf Who Wears Sheeps Clothes comes to mind). My few complaints about this record are minor and somewhat insignificant considering all of the highlights in this tracklist, though, and shouldn't diminish much about This Old Dog.
Painting This Old Dog as a sad album with nothing in the way of fun would be a disservice, however. Baby You're Out, One Another, and A Wolf Who Wears Sheeps Clothes are all feel-good anthems calling back to 2 and Salad Days. In terms of instrumentation there isn't too much new on this album except the occasional piano, harmonica, and an increased use of synthesizers with On The Level, and For The First Time. Stylistically, however, Mac seems more willing to slow it down and reflect. Moonlight On The River, perhaps my favorite off this album, is a prime example of this.
None of this is to say that Mac DeMarco is a completely new artist, or that his longtime fans will not enjoy this record. He is still very much the same person, with a very similar style. But a few minor tweaks took him from making purely enjoyable music, to becoming a truly great artist with one of the best albums of last year.  
Score – 8/10
Favorites (in no order) – Baby You're Out, For the First Time, Still Beating, One More Love Song, On The Level, Moonlight on the River, Watching Him Fade Away
Least favorites – This Old Dog