Varsity girls' volleyball starts season with bump, set, spike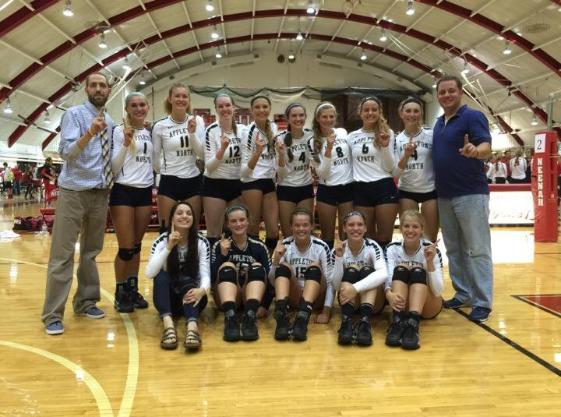 With thirteen returning players and eight seniors, this year North's girls' volleyball team is ready for an unforgettable season and they started off strong by taking the gold in the Battle of the Valley.
Coached by Steve Schuerell and Chris Fitzgerald, the team was in full swing starting mid-August. Their first Fox Valley Association tournament, Battle of the Valley, took place on Aug. 25 at Neenah High School. This is an annual tournament that kicks off the first tournament play for all teams in the valley. It has been occurring the past fourteen years.
Eight teams competed in Battle of the Valley this year including: Appleton North, Fox Valley Lutheran, Hortonville, Kimberly, Little Chute, Neenah, Oconto Falls, and Xavier. Appleton North went undefeated in the tournament, taking first place for the first time in fourteen years since Battle of the Valley has been held.
"We are playing very strong, and yet we are still learning as we play and practice," said Schuerell, "We carry it over to the game and understand that if we all play our part and not do too much we will all be fine."
The team traveled to Sun Prairie Aug. 28 and 29 where they played a two day tournament with a total of 10 games. They took second to Manitowoc Lincoln who won in a tough three games against the Lightning girls. Sept. 3 was the home opener and first conference game of the season for the Appleton North girls who were matched up against Hortonville. North lost to Hortonville last year in the Sectional Finals after an exciting and tough five sets. The two teams also faced off during Battle of the Valley and North won in three and was ready for another chance at Hortonville in their first conference game. This game was a great game played by both teams, and North pulled out the win in five. The girls have also had three other conference games playing Oshkosh West, Fond du Lac, Kaukauna, and Appleton West winning all four and creating a record of 5-0 in conference, tying for first in the FVA conference, and 20-2 overall.
"We haven't had many bad losses," said Schuerell. "Practices are tough and we carry it over to the game really well."
It looks like the Lightning Girls are starting off the season with a bang, so what does the future look like for the 2015 team? "For the team, because of all the talent and returning seniors, it would be to make it to sectional finals at Appleton North and go from there," says Schuerell. "Hopefully we can get a lot of North fans to come and support us and help us as our next step would be to make it to state. But overall, one of our biggest goals is to win a conference championship and get ourselves up on that banner."