Lightning position should be Mr. or Ms.
In this day and age, many people would state that men and women hold equal play in society. We have women in government, as CEO's, and even female candidates for president. But here at North, there still remains a position that women are seemingly unable to have, the title of Mr. Lightning. In fact, there has not been a Ms. Lightning at Appleton North for more than five years. This is unacceptable, as female students should be given just as much opportunity as male students to receive this position. Women at North should get the opportunity to hold the title of Mr. or Ms. Lightning.
"
Leave the Lightning position open to whoever is most qualified and most interested, Ms. or Mr.
— Abigail Davies
Although it is easy to blame the lack of a Ms. Lightning on the school faculty, the process of choosing Mr. Lightning is one that lacks the involvement of school officials. Generally, the title holder from the previous year awards the title on someone they think would make a good Mr. Lightning for the next year.
Then the school officials and faculty approve and meet with the person to make sure that he will be a good leader for the students and to check and make sure that all of the cheers that are going to be used are appropriate. The school administration has nothing to do with picking the next year's Mr. Lightning, and Mr. Herrling stated that it has "…no problem with the position being held by a girl."
This means that the fault for this issue lies solely on the student body. If we want the possibility of a Ms. Lightning for future students, we need to make sure that this year's Mr. Lightning knows that it is okay for him to pick a female student body leader for next year. Precedent dictates that Mr. Lightning should be a male, but that can be changed if the student body wishes it to be. Also, someone needs to step forward to become Ms. Lightning, and should be a student with a good record and excellent leadership abilities.
Having a Ms. Lightning would be incredibly beneficial for all the students at this school, especially the younger girls. It would give the younger girls a strong female role model to look up to and aspire to be. In addition, it would bring new creativity to the Mr. Lightning process, just from the different perspective a girl can offer.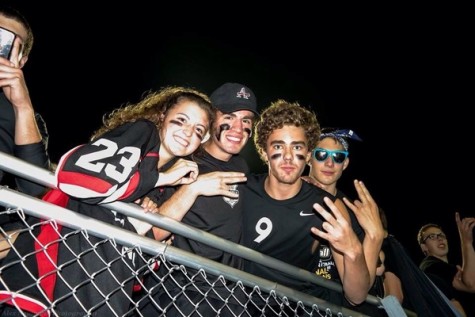 Some people may state that a girl may not have the leadership abilities, or physical abilities to be able to lead our student section. This is not the case though, as time and time again female students at North have proven their ability to lead, by holding leadership positions in various clubs. In addition, a Ms. Lightning would be just as capable at leading the students in cheers and screaming directions to the crowd as any Mr. Lightning.
It is important that we, as North students, realize that having a Ms. Lightning is a possibility, and we make sure to leave the Lightning position open to whoever is most qualified and most interested, Ms. or Mr.