Joe Biden Projected As 46th President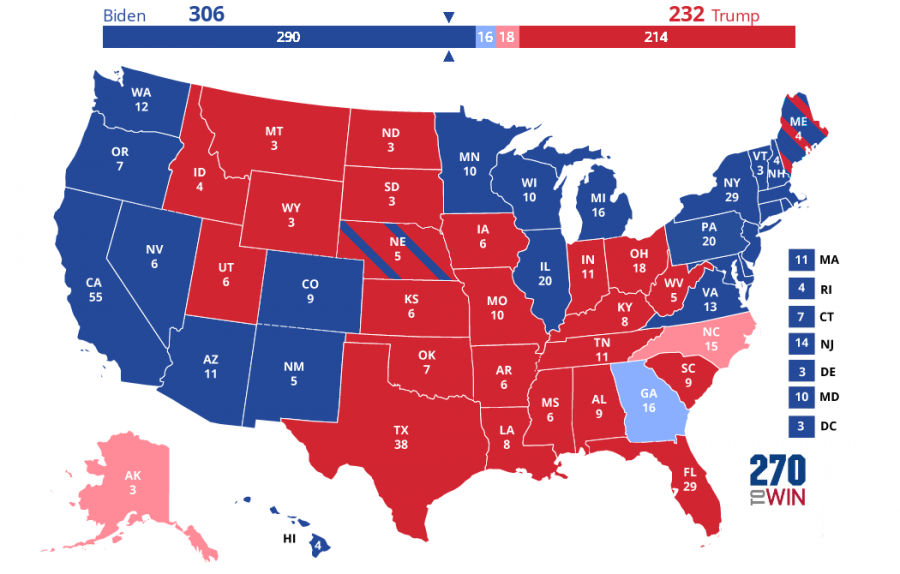 As of November 8th, 2020 at 4:00 pm CST, Joseph R. Biden Jr. achieved victory offering a message of healing and unity. With this, Kamala Harris will be the nation's first Black and South Asian American Vice President, and the first woman to hold that office. Biden crossed 270 Electoral College votes with a win in Pennsylvania. As the state continues to report vote-count totals, with more coming from Democratic-skewed counties and batches of mail-in ballots, the former vice president overtook President Trump's lead in the pivotal race.
Biden is on track to win the national popular vote by more than 4 million, a margin that continues to grow as ballots are being counted. With his triumph, Mr. Biden, who turns 78 later this month, fulfilled his decades-long interest in his third bid for the White House. He stands as the oldest person elected president.
Mr. Trump, on the other hand, is the first incumbent to lose re-election in more than a quarter-century. Throughout the campaign, Biden led President Trump in the polls. MI, WI, and PA stood as the key states that cemented his victory. 
Creating History & Celebrating
Kamala Harris, the daughter of an Indian mother and Jamaican father has risen up in the country's leadership than any other than any woman before her. Her work and story continue to inspire so many of us across the country. When it comes to celebrations, the entire country has erupted. This weekend in Washington, strangers congratulated each other on the streets of the nation's capital in the hours after major news outlets declared Joseph R. Biden Jr. as the winner of the presidential race.
Well, what now?
The peaceful transition of power has been a worrisome concept for many Americans. This formally takes place between election day, which is on the first Tuesday after November 1 every four days. Inauguration day follows this, when the incoming president takes the oath of office, though the planning for transition can start any time before the election. To add, the 20th amendment to the Constitution states that the term of each elected President of the United States begins at noon on January 20 of the year following the election. Till then, we'll receive many arguments from both sides of the aisle as to what will happen, but the best thing to do is remain hopeful for our country's nation.