North girls' swim team racks up records

Photo by Alex Neumann
Appleton North Girls Swim team has had an excellent run so far, since Aug. 14. Varsity has been waking up to get to practice by 5 a.m. and it definitely has been paying off.
So far within the season, the Varsity and the Junior Varsity teams have been competing tough, winning against Appleton West, Appleton East, Oshkosh West and Berlin. Junior Britt Horn broke her own Appleton East's pool record for backstroke.
At the Neenah Invitational, the Appleton North girls' swim team beat many top 10 records for the school in this season. Lexi Monty, Lauren Hilt, Lexi Hilt, and Britt Horn had a time of 1:40:18, which placed them in third for the all time score in the 200 Free Relay here at North.
For the 200 Medley,  Lexi Monty, Briana Arnold, Lauren Hilt, and Britt Horn snatched fifth place on the leaderboard with a time of 1:51.99. Lauren and Lexi Hilt also put themselves in the top 10 for the 50 free. Lauren Hilt had a time of 24.98 putting her in sixth, and Lexi Hilt got tenth with 25.72. Lauren Hilt also got 7th in the 100 Free, with a time of 55.26. These swimmers managed to break five school records in the Neenah Invite.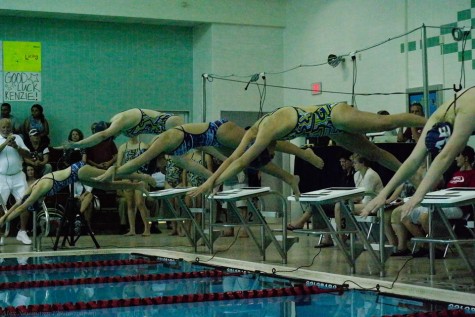 Photo by Alex Neumann

Throughout the season, ten records have made the top ten, five of them being in the Neenah Invite. Abbey Greeneway broke two records, coming in fourth for her backstroke with a time of 1:02.21 and seventh place for her 2:16.16 timed 200 Individual Medley. Lauren Hilt also made the top ten in backstroke, coming in eighth with a time of 1:03.03 and in her 100 Butterfly she had a time of 1:03.56, placing her in tenth. Finally, Lexi Monty also placed tenth for her 100 Breaststroke with a time of 1:14.42.
Overall, the Appleton North swimmers have been working hard since Day One. Showing their perseverance and their strength in every meet they undertake has definitely paid off. The season isn't over yet though and these girls won't stop. With another month left in the regular swim season before Conference, Sectionals, and State, expect more records to be broken as the year progresses.