Mr. Pynenberg named new Appleton North principal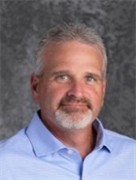 North Assistant Principal Mr. David Pynenberg has been named Appleton North's new principal, pending official approval by the Board of Education. Pynenberg would begin his new role on July 1.
The announcement was made Monday afternoon by Assistant Superintendent Mr. Ben Vogel during a staff meeting.  "We are super excited," Vogel said, "David Pynenberg has excellent leadership."
Pynenberg was a school counselor in Shiocton for seven years before coming to North in 1999, where he served as a school counselor for six years, activities director for four years, and associate principal for curriculum and instruction for eight years.
"In these roles, Mr. Pynenberg has built strong, positive, trusting relationships with students, staff, parents and community members," Vogel wrote in a letter that was mailed home to North families and e-mailed to North staff. "These established relationships will provide a smooth transition for both Mr. Pynenberg and the entire school community."
"Based upon feedback from staff members and parents, I have every confidence that Mr. Pynenberg is an excellent match for North High School and will provide strong leadership to continue the outstanding opportunities that are already in place at North," Vogel wrote.
Vogel said ongoing partnerships with families and community members will be a key part of Pynenberg's role. "Moving forward, Mr. Pynenberg will host opportunities for students, families and staff to take part in conversations regarding the hopes, dreams and aspirations of the North community," Vogel wrote.
Pynenberg said his role is to continue to build on what North has to offer. "My goal for next year would be continuing the excellence and academic success here at  North," Pynenberg said.
Mr. James Huggins, who has been principal at North for nine years, will be starting his new job as assistant superintendent on July 1. The role Huggins is filling was previously held by Dr. Judy Baseman, who has been named the new superintendent following the announced retirement of Mr. Lee Allinger.
Huggins, when asked what advice he would give Pynenberg, said: "Be a good listener, and be open to what others around you have to say, and listen to them going forward."
Pynenberg said interviews for the new assistant principal will begin sometime next week.