With a new school year comes a myriad of other "new's"—new students, new classes, new schedules, and of course, new teachers. While many of these exceptional educators have already had the pleasure of introducing themselves to their students on Back to School Night, this article aims to introduce three such teachers not only to their classrooms but to all of you. Each of these teachers brings with them a wealth of knowledge that they are eager to share, as well as unique stories and perspectives to offer. Look out for these familiar faces and don't be afraid to greet them in the hallways!
---
Entering her twenty-first year of teaching, Dr. Margie Westmoreland may be new to North, but certainly not to education. Having taught Spanish for eighteen years in Mississippi, her entrance to North as a computer science teacher may seem like a bizarre career choice; however, it all makes sense when looking at her background. Westmoreland reveals, "I was tech support for some of the schools I worked with, and I do have a computer background: my associates, my bachelors, and my masters are all technology related, and then my PHD is in leadership." In her free time, Westmoreland embraces the art of writing in many forms. "I write poetry, and I started a children's book. I also have a memoir I'm working on." When asked for more information about her works, she reveals, "The poetry book is called Bring Me Sunshine and the memoir I haven't titled yet."
A "techie at heart" in her own words, Westmoreland exclaims that she is excited to bring her experience in technology to a new subject area in teaching. "I know a lot of students know the newer technology but I have thirty years in technology so I think there's a lot that you can learn from me and that I'll learn from them."
A fun fact about Westmoreland relating to her subject area is that her affinity for technology runs in the family. She explains, "My husband is a programmer, my stepson is a programmer, and my youngest child is a computer sports specialist."
As an educator, Westmoreland is driven to help her students discover their passions. "I wouldn't have stayed in education if I didn't think I could impact students somehow and guide them into something they actually like." In her career as a Spanish teacher, Westmoreland has inspired her students to become Spanish teachers and hopes to make a similar impact within the field of technology. She comments on the broadness of its impact: "It's not just programming, not just cybersecurity. There's a lot of different fields."
When presented with the dilemma of the day, whether she would rather fight five horses or twenty roosters, Westmoreland takes an audacious approach, choosing the horses. She reasons, "My son is a black belt in Judo, and I know some too, so I could sweep them," enthusiastically adding, "I could do some maneuvers and get them to fall!"
---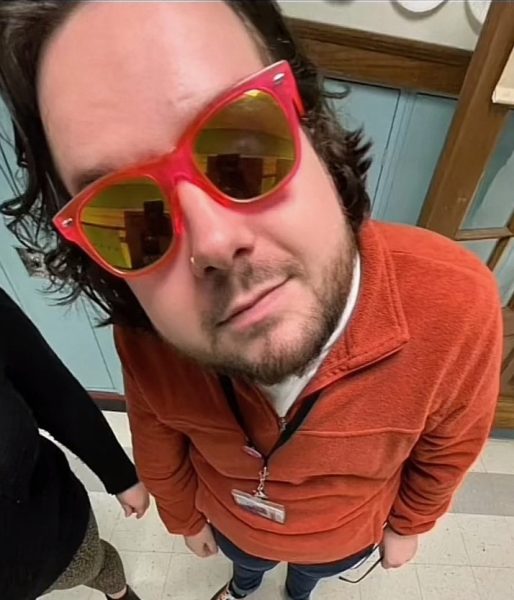 An energetic and warm character, Mr. Darien Olson represents the many dimensions of himself with the variety of photos above. As an Appleton North graduate of 2016, Olson is hardly new to this school. After graduating from North, he went to UW Eau Claire as well as UW Oshkosh, where he acquired his teaching license. He taught eighth-grade humanities at Kaleidoscope Middle School, and this year he looks forward to teaching ELA 9 at North as well as working in FCLA, North's charter school. In his pastime, you can find him hiking, walking, and reading.
This year, he is most excited about the new administrative team, expressing, "I think Mr. Werner is gonna do a great job!" As an FCLA teacher, he is also excited to work with the new teachers within the program.
While Olson was unable to come up with a fun fact related to ELA during his initial interview, he later imparts in an email that "In the time of Shakespeare, women were not permitted to 'act' on stage, so the feminine roles were played by young boys (often before their voices changed). Shakespeare, the clever playwright he was, included many puns and other ironic jokes that references the fact that it was a male playing a female. With modern casting, much of this irony and humor has been lost."
Olson recognizes the unique responsibility of being an educator, articulating, "I'm teaching ELA, but I'm also building a relationship to make sure I'm meeting my students' needs, meeting who they are as people, and who they are as social beings as well." He believes that learning is enhanced through social and emotional well-being, stating that his educational philosophy involves "taking care of students as people first and learners second."
Lastly, when asked the question of the day—whether he would rather fight five horses or twenty roosters—Olson confidently asserts that he would choose the roosters because he could "just kick them out of the way." When confronted with the sheer number of roosters, he explains that the horses are more intimidating but concedes, "I mean, the roosters could gang up on me and that could be a whole mess."
---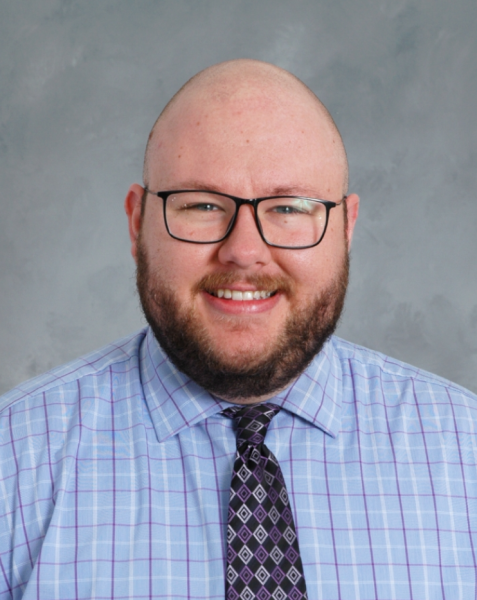 Another local of the Appleton area, Mr. Sam Heiden graduated from Appleton West High School in 2014. After graduating from UW Eau Claire, Heiden taught at Appleton West for a year, moved his career to Madison for a brief period, and returned this year as a social studies teacher. A self-proclaimed avid outdoorsman, Heiden remarks, "I love to fish, hunt, golf anytime I can get outside," adding that, "The bowling team is really trying to recruit me."
Heiden is excited to be working with high schoolers again, as he feels he can accomplish his purpose of helping kids find their place in the world better with the high school age group.
When asked to divulge a fun fact related to his subject area, history, Heiden explains that his family history practically destined him to be a history teacher. He reveals, "My family is actually one of the Mayflower families, so you can trace my lineage all the way back to the first pilgrims. I'm related to President Gerald Ford, and I had an ancestor killed at the Salem witch trials," concluding with a striking assertion, "I'm born to teach history!"
Heiden believes that being an educator means being able to help students "figure out where their path is in life, whether it's going to college and becoming the president of the United States or going to own their family business."
When posed with the choice of fighting five horses or twenty roosters, he answers confidently, "Twenty roosters, absolutely; that's an easy one." He reasons, "Horses will trample you. You're much bigger than a rooster," adding, "I feel like if they're flying in the air you can just karate chop them down."