A fantastic student at Appleton North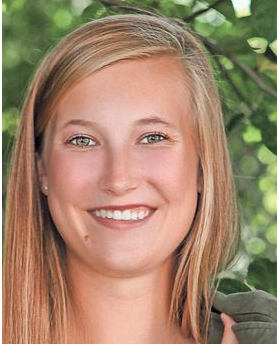 Noctiluca interviewed Sydney Maule, a senior here at North, asking her questions surrounding her ability to balance a busy, successful school life and being on a varsity golf team. An accomplished student, Sydney Maule has earned the Scholar of the Week recognition from the Post Crescent because of her diligence in the classroom, on the golf course, in the band room, and in the world of volunteerism. She is ranked No.1 in her class and has maintained a 4.0 GPA. She has taken nine AP classes, earning her the title of AP Scholar with Distinction. On the golf course, she is the No.1 ranked golfer on the Appleton North varsity team, and finished her golf season strong. She has earned the Academic All State Award for the past two years, enjoys playing in Honors Band, and volunteering at the Hearthstone Museum. Altogether, she is a very kind and successful student, and Noctiluca had a fun time interviewing her. We asked her some questions about her life and advice for those who want to be successful.
Noctiluca- Who motivates you to become a successful student and pushes you to be great?
Maule- My parents. They encourage me to put myself out there and to do the best I can. They encourage me to stand out, achieve my goals, and not to be afraid to try anything.
Noctiluca- What is a good balance between sports, activities, and studying and how do you benefit from both?
Maule- Try to prioritize what needs to be done first. During the sports season, sports come first and then work. Be very aware of your time, and don't worry. The teachers are very understanding and can help you through it. Just take it one day at a time and focus on what's important.
Noctiluca- What do you value more: superiority on sports or having fun on the field?
Maule- Trying to get better and better is fun, and the better you are, the easier it is to have fun.
Noctiluca- Do you have any advice for being a leader in sports, activities, clubs, and/or academics?
Maule- Lead by example. If you are confident and do what you want others to do, they will follow you.
Noctiluca- What is your proudest achievement?
Maule- Making it to the State Golf Tournament was definitely one of my proudest achievements. I was so happy I made it.
Noctiluca- Does the busy life you lead prevent you from having a social life?
Maule- No, I think that if you want a social life, you will have social life- busy life or no busy life. Participating in as many activities as I do allows you to have more friends actually.
Noctiluca- What is your greatest goal in life? Where do you want to be in 30 years from a "big picture" standpoint?
Maule- I just want to be happy. I guess my biggest goal is doing what makes me happy and leading a joyous life.
Noctiluca- Do you read any books, listen to any music, watch any movies or TV programs? Do you have any favorites?
Maule- Well, I don't have much time to read in the school year, but I do read over the summer. My favorite book would probably be the Book Thief. I like to listen to music from Walk the Moon, my favorite TV show would be Friends, and I love the Harry Potter movies.
Noctiluca- Well Sydney, you seem to be good at everything! Is there anything you are not good at?
Maule- Basically, any sport that's not golf.
Thank you Sydney for this wonderful interview and for all the fantastic advice you gave us, and we hope you have a marvelous college experience and beyond!