Representative Kalan Haywood: America's youngest lawmaker
Hang on for a minute...we're trying to find some more stories you might like.
This article was originally published in Youth in Government's newspaper The Truth from the Youth
When Representative Kalan Haywood was eight years old, he remembers being in awe when witnessing the mayor of Milwaukee come to a ground-breaking that his family was also attending. "Who's that guy?" Representative Haywood thought. After the event, he began to research politics and what a mayor's job was. Thus, his interest in politics began. At the young age of 18 years old, Representative Haywood ran and won a seat in the Wisconsin assembly, making him America's current youngest lawmaker. "I ran because I was extremely tired of seeing the same things happen over and over again…. you don't to wait to do what you want to do, you can be great now." Representative Haywood began his run for assembly with an exploratory campaign in January of last year, announced his candidacy late last spring, and began an intense 100 day campaign, which he described as the best time of his life. "I feel that people were skeptical about me being 18 and announcing I was going to run. (They were like) 'who's this guy think he is thinking he can run when he's 18!'" Representative Haywood mentioned that the average age of a state legislator in our county is 55, and "18 is very far from 55."
He is very passionate about young adults getting involved in politics, and stresses that they are the future of out country. "Regardless of what your political party is, I encourage everyone to go out and vote. I want to see young people come out and vote, that's the biggest thing. Young people are the biggest voting demographic in the country. If we go out and vote, we can sway any election… (I know people that have) lost by one vote, and they are devastated… every vote does matter." Finally, Representative Haywood has some advice for all young people out there "When I was growing up, my parents taught me this: whether it is a janitor in the building or the president of the United States, treat them all with the same respect and listen to them. People think a lot of time because of age, that five-year-old might not have anything to say, but honestly, that five-year-old has so much creativity, that if you listen to a five-year-old he might change how you think… take everyone seriously and you can gain something from it."
Click here to read the Youth in Government Truth from the Youth
About the Writer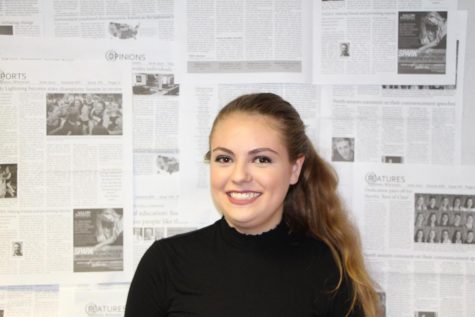 Sarah E. Fleming, Online/Advertising Editor
Hello! My name is Sarah Elizabeth Fleming and I am the Online/Advertising editor for the Noctiluca! In my spare time, I like to watch documentaries, be...