Lato's paintings displayed in award-winning Richeson Art Gallery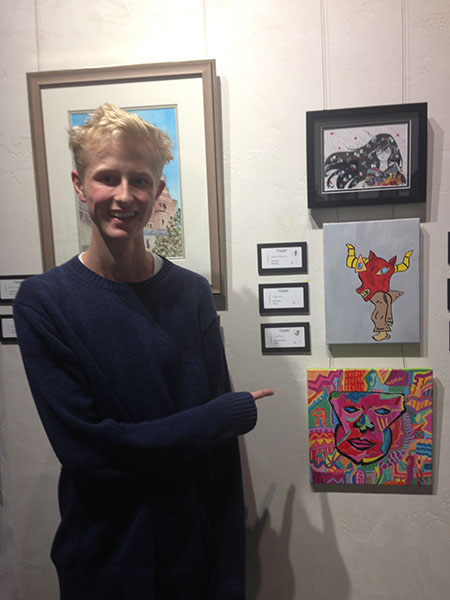 Cole Lato, senior at Appleton North, had the honor of having his artwork displayed in an award winning gallery, right here in Appleton.
Over the summer, the Richeson School of Art and Gallery asked artists of all skill levels, from all over Wisconsin to submit their artwork to them for the Create! art show. Cole found out about the show when he was handed a flyer for it while at Appleton's annual Art at the Park event this July.
"I started drawing when I was 14," says Cole, "but I hadn't really painted before this year ever." Despite his little experience, he decided to go for it and submitted two paintings to the gallery.
Less than a week after submitting the pieces, Cole received an e-mail saying that not one, but both of his pieces were going to be on display in the show. Not only had both of the paintings been accepted, but his piece "Chromatic Mask" won 3rd place in the student category. "My biggest inspiration for those pieces was probably just the idea of being in the art show," says Cole, "I just painted what I would have liked to see."  Well over one hundred pieces from artists all around Wisconsin were submitted to be in the Create! art show and only 91 were chosen to be on display. The exhibit is very diverse. It features a multitude of different medium and everything from abstract to realism pieces. "This year was the first year for Create!" said Shannon Piette, the gallery director, "and due to the flood of interest this will become an annual event." If you want the opportunity to have your work displayed, be on the lookout for information regarding the art show next summer. The art show offers an opportunity to see and be inspired from work by local artists of all skill levels.
The Richeson Art School and Gallery has over 650 works on display and it's free to view. The gallery is split into sections: the Richeson Permanent Collection, the Local and Regional section, and the Main Exhibit. The Art School also offers classes and workshops taught by both major and local professional artists for people of all skill levels. Additionally, they also sell a wide variety of high quality art supplies.
Cole's story just goes to show that it's never too late to start experimenting with art or something that you have an interest in. Shannon, the gallery director, who sees tons of artwork made by everyone from professionals to students, offers this advice: "Don't be afraid to make mistakes. Often, I get approached by aspiring artists that expect everything they put on paper to be perfect, flawless, but art is ever changing and evolving within the industry as well as the individual artists' styles. I challenge every aspiring artist to seek out new techniques and embrace the critique of your work as this will mold you into a stronger artist."