North theatre program introduces "The Little Mermaid"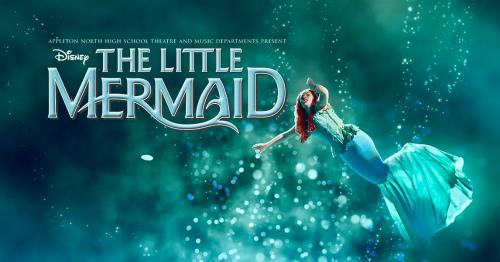 After a rehearsal process that began in early January, the Appleton North High School theatre program is in the final stages of preparation for their upcoming musical, Disney's "The Little Mermaid," with this Thursday, March 10 marking their first public performance.
For those anticipating to attend, the show boasts a combined cast, crew and orchestra pit of over 100 students. Cast members include ANHS seniors Mary Dinkler and Jack Russell as Ariel and Prince Eric, respectively, with juniors Maddy Cuff and Kamy Veith heading the technical crew as stage managers and senior Molly Biskupic as student director. Band director Mr. Jim Thaldorf will conduct the orchestra pit, while Mr. Ron Parker will direct the production.
Audience members can look forward to many of the classic tunes from the original Disney movie, including "Under the Sea" and "Part of Your World," as well as a new smattering from the Broadway show. Also present in the North production are dancing sea plants, brilliantly colored light sequences, and characters that fly high above the stage, courtesy of ZFX Flying Illusions.
If interested in attending, performance dates are scheduled for March 10, 11, 12, 17, 18, and 19 at 7:00 PM and March 12, 13, 19, and 20 at 1:00 PM. Tickets–which have been selling rapidly, so get them as soon as possible–cost $12 for March 10 and March 17 and $15 for the rest of the performances.  For more information, please visit appletonnorththeatre.com.